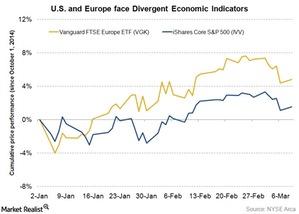 Key Indicator Releases: Russian Sanctions Impact Germany's Trade
By Surbhi Jain

Mar. 12 2015, Updated 1:59 p.m. ET
Key indicator releases across the globe
On March 9, there were some important indicator releases across the globe. From trade and current account releases in Germany, to economic outlook survey results in Japan, and the CPI (consumer price index) and PPI (producer price index) figures in China, the day saw it all. In the American continent, Mexico, Brazil, and Canada also saw some key indicator releases.
While some releases were in line with expectations, other releases disappointed investors in the region. Let's take a closer look at each of these releases. Did March 9 give you a reason to smile or be wary of your investments? Let's start with Europe.
Article continues below advertisement
Europe
The US and Europe face divergent economic indicators. This provided investors with enough ground for a relative value play. While indicator readings in the US are signaling growth and strength in the economy, indicator readings in Europe are signaling weakening in the economy. However, the weakening of the euro against the US dollar—as evidenced in the downward trending Guggenheim CurrencyShares Euro Trust (FXE) and the upward trending PowerShares DB US Dollar Index Bullish Fund (UUP)—pushed European equities higher as investors bet on economic reforms in the Eurozone.
As a result, the Vanguard FTSE Europe ETF (VGK) outperformed the iShares Core S&P 500 (IVV) on year-to-date, or YTD, basis. However, the economic indicators in the Eurozone continue to make investors in Europe wary of their holdings.
Trade in Germany
In Germany, the German Federal Statistical Office came out with its trade and current account balance figures for January 2015. There was a larger drop in exports of -2.1%. There was a drop in imports of -0.3% in the month. This caused the German trade balance to narrow from 18.9 to 15.9 billion euros.
Trade in Germany is being affected by Russian sanctions. Germany has significant investment and trade ties with Russia. Russia is a major customer for German cars, pharmaceuticals, and machinery. German companies such as Opel, the German subsidiary of General Motors (GM), Ford-Werke GmbH, a subsidiary of Ford Motor Company (F), and Deutsche Bank (DB) have a good presence in Russia.
According to the Committee on Eastern European Economic Relations in Berlin, about 6,200 German companies operate in Russia. This implies that about 350,000 German jobs depend on economic trade with Russia. The European sanctions are having a boomerang effect. They're impeding trade in its own growth engine—Germany.
Germany's current account balance also came out the same day. It's down from a 25.6 billion euros to 16.8 billion euros in January.
France saw a drop in business sentiment. Industrial production in Turkey took a hit. We'll discuss this in the next part of this series.