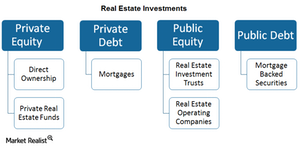 REITs: Investing in Real Estate Without Managing It
By Mike Sonnenberg

Mar. 24 2015, Updated 2:08 p.m. ET
Investing in real estate
There are various ways to invest in real estate. The obvious way is to buy real estate directly, which is also known as a private equity real estate investment. It's private because physical real estate isn't publicly traded, and it's equity because you own it.
Banks provide mortgage loans, making a private debt investment in real estate. Mortgage-backed securities are publicly traded securities secured by mortgages—public debt real estate investment. Lastly, investors can invest in real estate investment trusts , or REITs, or real estate operating companies, or REOCs—known as public equity real estate investment.
Article continues below advertisement
What are REITs?
Put simply, REITs are companies that invest exclusively in income-producing real estate. REITs are mostly exempt from corporate income tax. Most REITs are equity REITs, but a small proportion of them, such as Annaly Capital (NLY), invest in mortgages and mortgage-backed securities.
Certain REITs such as CBL & Associates (CBL) and DDR Corp (DDR) specifically invest in retail and shopping centers. Cousins Properties (CUZ) is a diversified REIT with exposure to multiple real estate avenues. Some ETFs, such as the Vanguard REIT ETF (VNQ), invest in REITs.
Exclusive benefits
Besides the common benefits of tax advantaged securities, REITs offer some exclusive benefits. First, a REIT gives you exposure to real estate without you needing management expertise. Since most REITs are involved in specialized sub-segments such as office or retail, you can chose your investment according to your preference at a much lower cost.
In the next part, we'll discuss master limited partnerships.