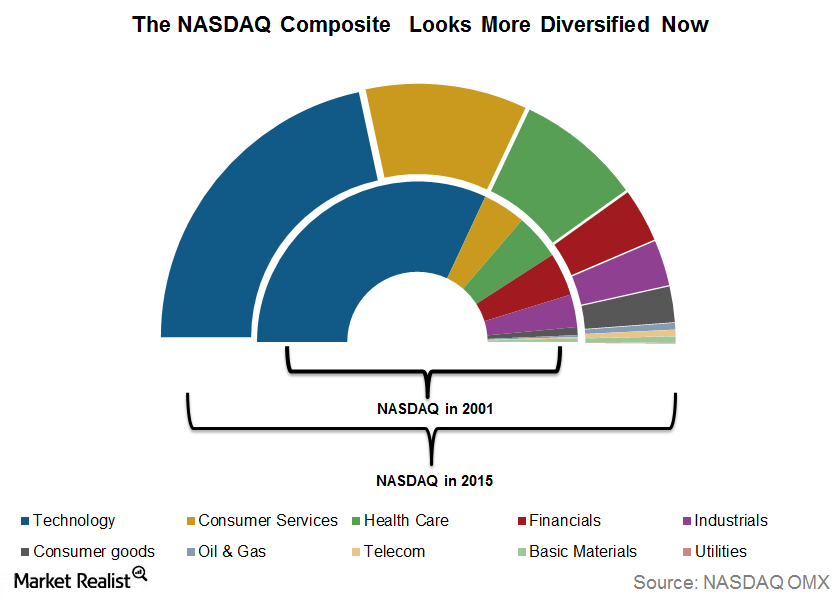 Not another Bubble: Why the NASDAQ is a Different Index Now
By Heidi Richardson

Mar. 27 2015, Updated 2:05 p.m. ET
Let's take a look at five things that have changed in the last 15 years:
1.  The Nasdaq Composite Index itself looks very different now.
Y2K: Tech reached as high as 65% of the index, and telecom was 12%.
Today: Tech represents 43% and telecom is less than 1%, offering more diversified exposure with other sectors.
Market Realist – The NASDAQ Composite Index has changed in composition from what it was 15 years ago. Though the index is still pretty weighted in favor of technology stocks, the proportion of tech stocks has sunk from 63.9% in 2001 to 49.9% in 2010 and 43.3% in 2015. Consumer services represent 20.9% of the total index now versus only 8.6% in 2001. Healthcare (XLV)(IXJ) has risen from 9.2% in 2001 to 16.2% presently.
Article continues below advertisement
NASDAQ OMX president Adena Friedman was quoted by the Financial Times saying that the index is "fundamentally different" and a "formidable reflection of the global economy." Not only does the index house tech stalwarts like Apple (AAPL), Google (GOOG), Microsoft (MSFT), and Facebook (FB), but the top 20 companies also include biotech giants like Gilead Sciences (GILD) and Amgen (AMGN) as well as retailers like Costco (COST) and Starbucks (SBUX).
Market Realist – According to data from Thomson Reuters, computers (41.6%) and industrials (32.4%) make up the largest sectors of the NASDAQ Composite Index by market value. Biotech (IBB) accounts for 13%, while 6.5% is banks and other financial institutions (XLF). You can see the sectoral breakdown by market value in the graph above.
The better-diversified NASDAQ is less prone to risk than the NASDAQ of 2000. The NASDAQ is a different index now.
Read the next part of this series to see how the dominant names and players have completely changed over the past 15 years.