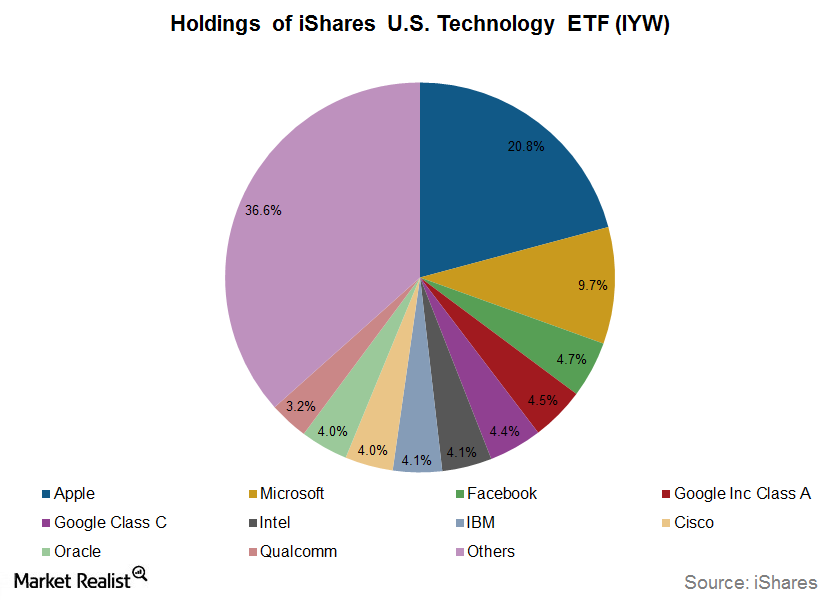 Mature Tech Stocks Are Likely to Be a Good Value Play
By Heidi Richardson

Nov. 20 2020, Updated 2:38 p.m. ET
5.  The climb has been strong and steady.
Y2K: Nasdaq rallied 95% from the October 1999 low to the March 2000 high.
Today: The index's rise has been more gradual, only 21% from October 2014 to March 2015. (Source: BAML)
But, one thing that remains from Y2K is the iShares U.S. Technology ETF (IYW), which launched in May 2000. Today, the fund includes mature technology firms that survived the bubble to become among the 100 largest U.S corporations by revenues. And IYW does not contain telecom stocks.
Nasdaq's latest 5,000 tally is garnering a lot of attention, and rightfully so. But the quality of mature technology companies today appears to be more solid than they were in 2000. We learned the hard way—earnings matter.
Article continues below advertisement
Market Realist – One way to play the NASDAQ's ascent is the iShares U.S. technology ETF (IYW), as Heidi mentioned above. The graph above shows the top holdings of IYW. A little more than 20% is allocated to Apple (AAPL), 9.7% is allocated to Miscrosoft, and Facebook (FB) accounts for 4.7% of the total share.
Market Realist – The graph above shows the exposure of the IYW to various tech sectors. Hardware, software, and services all find adequate allocation in the IYW.
Mature tech stocks are likely to be a good value play this year as the US economy continues to strengthen and both consumer (XLY) and business spending receives a boost. The earnings forecasts look good for the sector. Also, the impending rate hike that's likely to impact sectors like utilities (XLU) and Treasuries (TLT) negatively is not likely to have much of an impact on the tech sector. The reason for this difference is that the tech sector has a large pile of cash reserves, which makes it less susceptible to changes in borrowing rates. The tech sector's net cash-on-hand–to–debt ratio has been estimated at 106% by Bloomberg, which indicates the sector's financial health.
The NASDAQ today sure is different from the NASDAQ of yore! However, keep yourself protected by making sure your portfolio is well diversified. Even though the NASDAQ isn't likely to take a tumble like it did in 2000, it makes sense to keep your holdings safe by not putting all your eggs in one basket. Also, beware stocks with extremely high valuations—like Netflix (NFLX) and Amazon (AMZN). Earnings indicators are of prime importance when it comes to choosing your stocks.
Read our series Why Mature Tech Stocks Have Earned Respect to see why the tech sector looks like a good value play at the moment.