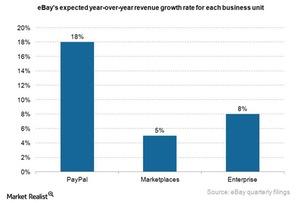 A look at management's guidance for eBay and PayPal
By Patricia Garner

Mar. 6 2015, Updated 11:05 a.m. ET
Guidance on eBay and PayPal
In the previous part of this series, we read about the factors that will drive eBay's (EBAY) EPS (earnings per share) expectations for 2015. During the fourth quarter earnings call, eBay's management provided guidance for each of its business units.
Management predicts PayPal's 2015 revenue growth between 15% and 18% on an FX-neutral basis. It will be driven by expansion of the credit facility with small merchants as well as with international businesses.
Article continues below advertisement
The company is also extending the reach of Braintree, which will further fuel the growth by acquiring more users. However, this strong growth will be partially offset by lower monetization from Braintree and large merchants. For more on this, read Market Realist's article The pros and cons of Braintree's growth for PayPal.
eBay is expecting segment margins of 24% to 25%, up 1% to 2% over 2014. The company's transaction margins could decline due to lower take rate and higher operating expenses as it steps up its investment plans. Transaction margin is the transaction fees that PayPal charges for executing customers' transactions on its platform.
This reduction in transaction margins will be offset by strong operating leverage and the cost benefits from the first quarter head count reduction and anticipated gains on PayPal's FX hedges.
eBay Marketplaces is a worrisome business unit
For eBay Marketplaces, the company expects FX-neutral revenue growth between 0% and 5%. eBay expects the first half of growth to be slower than the second half as the company rebuilds its active buyer base.
This is a worrisome sign for eBay since the revenue growth will be the lowest over many quarters. When we compare this with Amazon's (AMZN) and Alibaba's (BABA) revenue growth projections for 2015, eBay's is far less. Amazon expects its 2015 revenue growth to be between 6% and 16%. Alibaba predicts revenue growth of 43% for the year 2015.
eBays' management expects segment margins of 37% to 39%, which is flat versus 2014. Margins were driven by streamlining of the cost structure and reinvestments of savings in product innovation and sales and marketing.
The company is also focusing on improving security, stability, and speed of its website. All these steps by management will generate strong cash flows for the business.
As for eBay Enterprise, management is pursuing a sale or IPO (initial public offering) since it has divergent opportunities with eBay. The company expects FX-neutral revenue growth of 5% to 8%  and segment margins of 5% to 10%.
For a diversified exposure to eBay, investors can consider ETFs such as the SPDR S&P 500 (SPY). This ETF invests in the 500 largest US firms, and the technology sector makes up 18% weightage. The Consumer Discretionary Select Sector SPDR (XLY) also has a decent exposure to Amazon. Amazon makes up 6.3% of XLY. Investors can consider this ETF for portfolio exposure to Amazon.