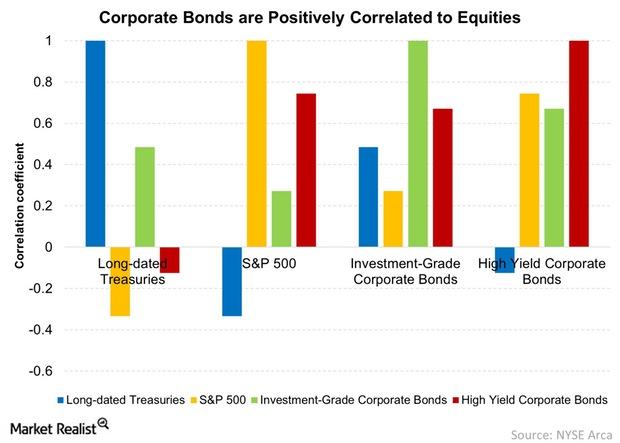 Invest in Fixed Income for Diversification and Yield
By Rick Rieder

Dec. 4 2020, Updated 10:53 a.m. ET
What worked in the past isn't likely to work in the future. What does make sense, though, is a mix of strategies designed to ensure that bonds can best do what they have always been meant to do in a portfolio, which is to:
Diversify, especially from equities.
Guard against interest rate and credit events.
Provide income.
Article continues below advertisement
Market Realist – Invest in fixed income for diversification benefits.
The asset correlation matrix above shows the correlation coefficients between Treasuries, the S&P 500 (SPY)(VOO), investment-grade corporate bonds, and high yield bonds. The iShares Barclays 20+ Year Treasury Bond Fund (TLT) tracks Treasuries, and the iShares iBoxx $ High Yield Corporate Bond ETF (HYG) tracks high yield bonds. Lastly, the iShares iBoxx $ Investment Grade Corporate Bond Fund (LQD) serves as a proxy for investment-grade corporate bonds. The matrix uses monthly returns for ten years.
From a portfolio diversification point of view, the correlation between two asset classes should be close to zero. A correlation coefficient of 1 means the two assets move together proportionately, while a correlation of -1 means the two asset classes move in opposite directions.
Treasuries provide diversification benefits with a correlation of -0.33 with the S&P 500. LQD is positively correlated to the S&P 500, at 0.27, which means it gives you some diversification benefits as well. However, high yield bonds are quite correlated to equities at 0.74. We'll dissect the reasons behind this correlation in a later part of this series.
Treasuries are also less correlated within fixed income, which makes them a good diversifying tool. However, a rising interest rate means that you should be choosy about which side of the yield curve you invest in. As we mentioned in the previous part of this series, long-dated bonds look more attractive—especially since any rise in yields due to the Fed's actions will be offset by international demand for US Treasuries.