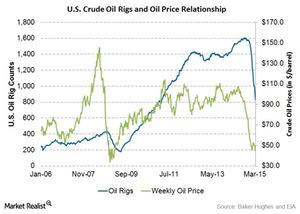 Depressed Crude Oil Prices Keep the Oil Rig Count Down
By Alex Chamberlin

Mar. 27 2015, Updated 6:05 p.m. ET
WTI crude oil price and rig counts
Although the current rig count indicates a production lag, it's important to keep in mind that the number of active oil rigs loosely follows prices. Oil producers tend to only increase the number of active rigs if crude oil prices make production profitable.
When prices increase, rig additions may accelerate. When prices fall, rig additions may slow down. For the number of oil rigs to fall or show a clear downward trend, crude oil prices need to fall to levels that make drilling unprofitable. Although this kind of fall rarely happens, it does occur, as we saw following the 2008 financial crisis.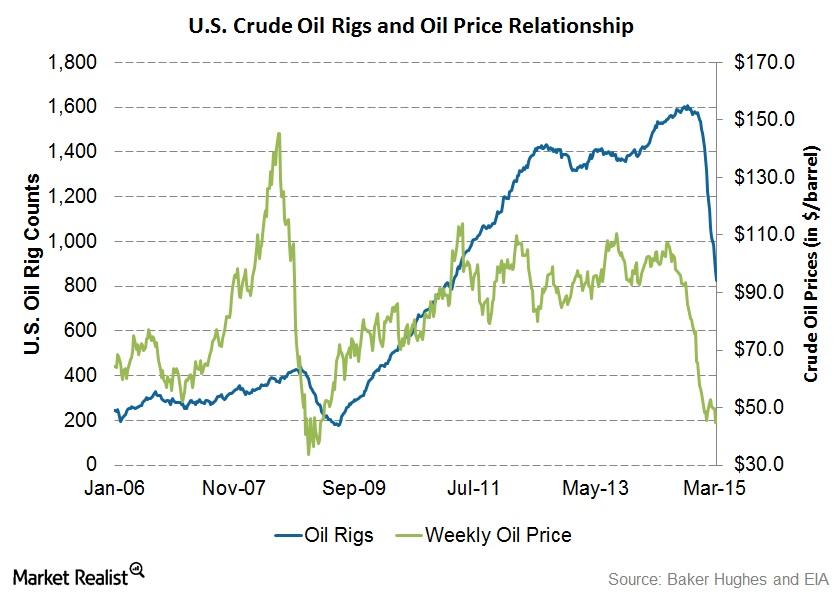 This scenario is happening again. We've seen crude prices cut in half over the last eight months. For more on this topic, please read Market Realist's Why 2008 crude oil prices and rig count fall resemble 2014 scenario.
Article continues below advertisement
Rig count slumps despite moderate energy price recovery
Between October 10, 2014, and March 13, 2015, the number of active crude oil rigs dropped by 784 to 825, down 49% from peak activity. The collapse in West Texas Intermediate (or WTI) crude prices caused the sharp reduction. Crude oil prices, which had showed some recovery since January 29, slipped back again this week. WTI crude dropped to ~$46 per barrel on March 20 from levels close to ~$107 in June.
This week alone, the oil rig count dropped by 41, or 5%. Meanwhile, the WTI oil price increased by 2% during the week. Natural gas prices also increased by 2% last week.
US upstream companies that produce oil, such as Continental Resources (CLR) and Hess Corporation (HES), could see lower revenues as a result of reduced drilling. Plus, these producers could suffer reduced profitability if WTI prices weaken more in the long term. Reduced activity and falling prices can depress oilfield service companies, including Halliburton (HAL) and Baker Hughes (BHI).
Some of these companies are part of the Vanguard Energy ETF (VDE) and the SPDR S&P 500 ETF Trust (SPY). Continental Resources makes up 0.24% of VDE, and Halliburton and Baker Hughes account for 0.35% of SPY. Halliburton is 1.45% of the iShares Global Energy ETF (IXC).
Article continues below advertisement
A two-way street
It's important to note that in the long term, increased rig counts can cause prices to decrease. More rigs result in increased oil production, and increased supply suppresses prices.
In the above chart, you can see that the number of oil-targeted rigs increased approximately fourfold from 2009 to 2014. The associated increase in US oil production helped push crude oil prices lower. In the past four months, however, the rig count started to fall, following suppressed crude oil prices.
While this trend may lead to oil production falling off from its current high, investors should note that the rigs that are shutting down are the oldest and least sufficient. In the short run, the tight oil production growth from the more productive resource shales should largely offset any effect of rig count slashing.