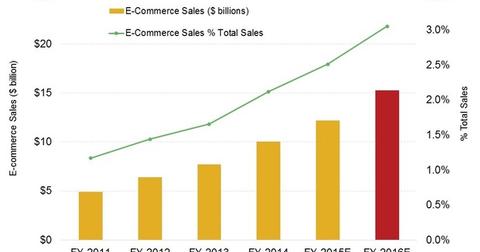 Why You Should Check Out Walmart's E-Commerce Performance
By Phalguni Soni

Updated
Walmart's e-commerce performance
Walmart's e-commerce growth rate is way ahead of the company's overall sales growth. Global e-commerce sales grew 22% in fiscal 2015 to $12.2 billion—that's up from $1.6 billion in fiscal 2005. Despite the exponential jump in revenues, the e-commerce channel accounts for just 2.5% of annual revenues. E-commerce sales in fiscal 2015 had missed the company's earlier guidance of ~25% growth.
In contrast, Amazon (AMZN), which is primarily an online retailer (RTH) (XRT), reported a slower growth rate. Revenues in fiscal 2015 grew 20% to $88.9 billion. For more on the rivalry between WMT and AMZN, read our earlier article Walmart Is Taking On The E-Retail Giants.
Article continues below advertisement
Target (TGT), Walmart's (WMT) other competitor, reported a higher growth rate in web sales. E-commerce sales grew 30% year-over-year to ~$3 billion. Costco (COST) reported web sales of about 3% of net sales, or an estimated $3.3 billion in the fiscal year ending August 31, 2014. COST filings don't disclose a dollar figure for online sales.
Walmart's e-commerce drivers
Walmart (WMT) reported 1.5 billion pageviews during the critical period running from Thanksgiving to Cyber Monday in 2014, a new record for the company. The company set an internal record on Cyber Monday, with the largest number of online orders in its history. About 70% of web traffic during the holidays stemmed from mobile, which is becoming increasingly important as a sales channel. Mobile has been a big driver for online holiday sales for consumer firms (RTH) (XLY), set to account for a major chunk of web traffic.
Article continues below advertisement
Walmart also reported healthy growth in the key international markets of China, Canada, Brazil, UK, and Mexico. E-commerce is thriving even where brick and mortar is not, such as China, as we discussed in the previous article. Web traffic for Yihaodian, Walmart's e-commerce business in China, rose 40%.
Walmart's e-commerce investments
Walmart is thinking big in e-commerce. Its investment thrust is primarily focused on its technology platform Pangea, talent acquisition, building, and leveraging its network of fulfillment centers and the integration of click-meets-brick.
As the retailer (XRT) scales up in the number of products available online and ventures into new markets, these factors would be critical in ensuring future revenue growth.
Walmart's e-commerce ramp up
Accordingly, Walmart spent $0.08 per share in fiscal 2015 in e-commerce investments, slightly higher than estimates. This year, the company expects a capex (or capital expenditure) of $0.06–$0.09 per share in incremental e-commerce investments amounting to $1.2 billion–$1.5 billion. This will include the further rollout of Pangea and doubling the SKUs (or stock keeping units) to more than 10 million. The company is also targeting the integration of click-meets-brick or click-and-collect.