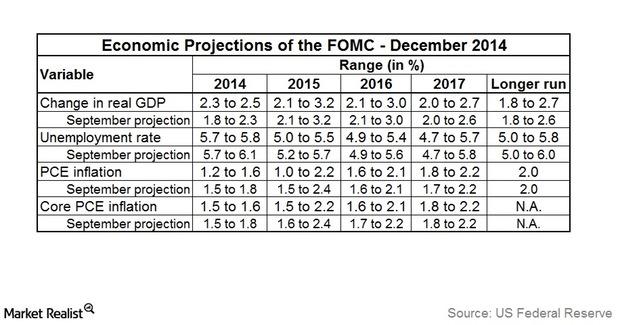 Can 'Patience' Give Way to Something Else in March 2015?
By David Ashworth

Dec. 4 2020, Updated 10:42 a.m. ET
When can the language change?
By taking unconventional QE (quantitative easing) measures while reviving the US economy, the Federal Reserve—specifically the FOMC (Federal Open Market Committee)—maintained that it will be data driven. Even now, there isn't a change in its stance. Whether it's the minutes of the FOMC's meeting, or Janet Yellen's—the Fed chair—testimony to Congress, the central bank maintained that stronger-than-expected data can move the rate hike closer than anticipated and vice versa.
Article continues below advertisement
Could there be a change in March?
The FOMC will meet for its next scheduled meeting on March 17–18, 2015. This meeting is important because market participants, along with some FOMC voting members, viewed mid-2015 as the time for the rate hike. As a result, markets will be watching for a change in the language of the FOMC's forward guidance. No change may mean that the FOMC, as a whole, isn't convinced that the US economy is ready for a rate hike.
High-grade corporate borrowers—like Bank of America (BAC), JPMorgan Chase & Co. (JPM), and General Mills (GIS)—will also be watching closely. Their debt raising plans would hinge on the FOMC's guidance. Bonds, stocks, and related ETFs—like the Vanguard Total Bond Market ETF (BND) and the PowerShares QQQ Trust, Series 1 (QQQ)—will also be watching.
Why is the meeting important?
This meeting is important for another reason. Along with the policy statement, the Federal Reserve will hold a press conference. It will also release an SEP (Summary of Economic Projections). These add-ons to the policy statement only take place four out of the eight times a year that policymakers meet. The last SEP was released in December 2014. It's presented in the above chart.
The economic projections would detail what policymakers are thinking about three important aspects of the economy going forward.
Economic output – as measured by the GDP (gross domestic product)
Unemployment rate
Inflation
In the next part of this series, we'll see if there could be a change in language—dropping "patience"—in the upcoming meeting.