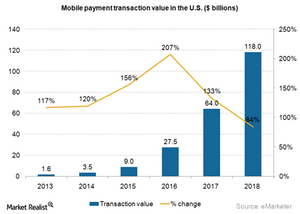 Braintree drives growth, gains new merchants for eBay
By Patricia Garner

Nov. 20 2020, Updated 12:31 p.m. ET
Number of merchants grows, thanks to Braintree
Braintree, which PayPal acquired in 2013 for $800 million, is a payment company that supplies technology to process mobile credit card transactions. Its Venmo app (application) also helps people instantly wire money to their friends' bank accounts by using an app on their phones.
eBay's (EBAY) PayPal continues to expand its global footprint with more growth in the number of merchants. This increase is due mainly to the expansion of Braintree outside the United States. PayPal now focuses more on large merchants. As a result, its penetration of large merchants in developed markets is almost 70%.
Article continues below advertisement
Expansion of Braintree drives PayPal's growth
During the last quarter, eBay's management noted that Braintree is gaining new merchants. It has also developed new software that allows merchants to quickly integrate Braintree and PayPal. Management also noted that Braintree is growing rapidly, helping PayPal extend its reach in the mobile payment market.
Competition in the mobile payment space continues to increase. Be sure to read Market Realist's article Why PayPal wants to increase mobile payment volume.
PayPal looks forward to partnering with Apple Pay
Even though Braintree is accelerating the growth of PayPal, eBay still needs some support for the sustainable growth of PayPal. When eBay (EBAY) announced it would spin off PayPal by 2015, questions were raised about how PayPal would sustain its growth without eBay's help.
eBay and PayPal depend on each other for growth. eBay helps PayPal acquire customers at virtually zero cost. eBay also provides PayPal with a source of low-cost capital funding. Read more about this in the article Why Icahn's proposed PayPal spinoff from eBay isn't a good idea.
So eBay decided to partner with other payment systems to sustain its growth after the PayPal spinoff. In the last quarter, PayPal partnered with Google's (GOOG)(GOOGL) Google Wallet mobile payment system. eBay management also hopes to partner with Apple's (AAPL) Apple Pay mobile payment system in the future.
The mobile payment market has huge potential. According to a recent report from eMarketer and as the chart above shows, mobile payment transactions in the United States are expected to more than double in 2014, from $1.6 billion in 2013 to $3.5 billion. Analysts expect this market will continue to grow at a healthy rate.
For a diversified exposure to eBay, investors can consider ETFs such as the SPDR S&P 500 (SPY). This ETF invests in the 500 largest US companies, and the technology sector makes up 18% weightage.