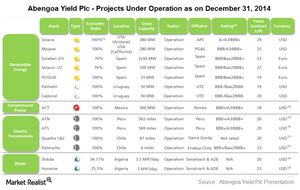 Abengoa Yield: The Most Diversified Yieldco
By Mike Sonnenberg

Mar. 27 2015, Updated 5:05 p.m. ET
Company overview
With a presence across renewables, conventional generation, power transmission, and water, Abengoa Yield (ABY) is the most diversified yieldco we're looking at in this series. As well, the company's operations are spread across North America, South America, and Europe, making it even more diverse.
The company was formed by Abengoa SA (ABGB), a Spanish conglomerate with interests in energy, telecom, and transportation. ABY completed its IPO (initial public offering) on June 12, 2014, raising $720 million at $29 a share.
Article continues below advertisement
Portfolio
The company's current renewables portfolio includes 560 MW and 231 MW of solar capacity in the US and Spain, respectively. It also has 100 MW wind capacity in Uruguay, and it owns and operates 300 MW of conventional power capacity in Mexico.
In Peru and Chile, it has 1,018 miles in its combined power transmission network.
Abengoa Yield's water desalinization facilities are located in Algeria.
Most of its contracts have a remaining life of over 20 years.
Customer profile
Abengoa Yield's solar power plant capacity in the US is contracted to Arizona Public Service and PG&E (PCG). Arizona Public Service is a part of Pinnacle West Capital Corporation (PNW). PCG and PNW are part of the S&P 500 (SPY) Index, as are other utilities such as NextEra Energy (NEE).
Almost all of Abengoa Yield's customers—11 out of 13—are investment-grade entities. The remaining two are unrated.
Article continues below advertisement
Dividend history
Since its IPO, the company has paid dividends only twice. In 1Q15, the dividend dropped by 0.4 cents from 4Q14's 25.92 cents a share. But you should note that the company announced a dividend of 25.92 cents for 4Q14 and then paid an additional 0.4 cents as a special dividend.
Bottom line
ABY offers greater asset and geographical diversity than other yieldcos. A significant part of its assets are located in emerging and frontier South America. As a result, its growth potential is high.