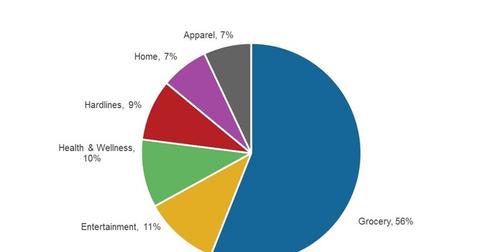 Walmart Aggressively Pushes Its Market Share
By Phalguni Soni

Updated
Scale rules
As mentioned in the last part of this series, the larger players in the grocery space have been increasing market share. In fact, by rolling out smaller neighborhood and express stores in crowded urban areas—read Parts 5–7—Walmart (WMT) would crowd out smaller players and neighborhood stores. These smaller stores are primarily retail (XRT) groceries and lower-dollar items.
Pharmacy chains—like Walgreens (WAG), CVS (CVS), and Rite Aid (RAD)—offer a select assortment of grocery items. Smaller-format stores—like Neighborhood Market and Walmart Express—can help Walmart compete with these players.
Article continues below advertisement
The larger opportunity
Meanwhile, Walmart's larger supercenters retail a full range of products. They put pressure on the larger players in the space. These strategies are aimed at pulling market share from the dollar store chains—like Family Dollar Stores (FDO) and Dollar General (DG)—as well as supermarket chains—like Kroger (KR), Safeway (SWY), Whole Foods Market (WFM), and Publix Super Markets.
In recent years, competition increased in the grocery segment. Amazon (AMZN), the world's largest internet retailer, entered the space with Amazon Fresh. Read Parts 17–19 in this series for more on how Walmart's stacks up with Amazon in e-commerce.
Competition will heat up even more with Dollar Tree's (DLTR) acquisition of Family Dollar Stores. Read Part 28 in this series to learn more.
Sales growth
As a result, grocery sales are growing for Walmart. In Walmart's US segment, grocery sales grew at a compound annual growth rate, or CAGR, of 3.2% from fiscal year 2010 to 2014. Grocery sales grew to ~$156 billion. In its Sam's Club segment, grocery and consumables sales grew at a CAGR of 4.6% over the same period. That makes groceries the fastest growing category in Walmart's US segment. It's the second fastest growing category in the Sam's Club segment.
Non-grocery competition
Besides groceries, Walmart also offers electronics, apparel, home improvement, and health and wellness products—among others. It usually purchases these products from vendors—like Apple (AAPL), Samsung (SSNLF), VF Corp. (VFC), and Disney (DIS). Walmart is one of the largest customers for VF Corp.
Entertainment is its second largest merchandise category. Entertainment accounts for 11% of sales. Other companies in entertainment retail include Best Buy (BBY) and Amazon (AMZN), among others. In the health and wellness category, Walmart (WMT) competes with the pharmacy chains mentioned above.
Other retailers include general merchandise stores like Target (TGT), department stores like Sears (SHLD) and Kohl's (KSS), and specialty retailers like Home Depot (HD) and Staples (SPLS). Sears and Kohl's offer a wide assortment of products. Home Depot and Staples offer more niche products.