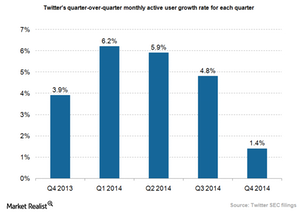 Why Twitter's slow user growth is still a risk to its stock
By Puneet Sikka

Nov. 20 2020, Updated 2:53 p.m. ET
Twitter's user growth slows down considerably
In the previous part of this series, we discussed Twitter's (TWTR) better-than-expected revenue growth in 4Q14. However, Twitter disappointed in terms of sequential monthly active user (or MAU) growth. As the chart below shows, Twitter's MAU growth rate has slowed down considerably to a quarter-over-quarter rate of 1.4%.
Twitter gained only 4 million MAUs in the last quarter for a total of 288 million users. Comparatively, although Facebook (FB) had about 1.39 billion MAUs as of 4Q14, it managed to grow its MAUs by around 3% sequentially. Yahoo (YHOO) has about 575 million MAUs, while Google (GOOG)(GOOGL) is massive, with 1 billion MAUs on Android devices alone.
Advertisers look for MAUs as the main metric in an Internet company for the purpose of purchasing ads. Higher MAUs provide advertisers an opportunity to broaden their reach to a large audience.
Article continues below advertisement
Factors that affected Twitter's user growth
Twitter mentioned a couple of reasons why its MAU growth slowed down. Firstly, Q4 is the seasonally weakest period for Twitter. Secondly, Twitter lost about 1 million users due to the roll-out of Apple's (AAPL) iOS 8 smartphone operating system. Users either forgot their password or never bothered to re-download the Twitter app. Twitter lost another 3 million users due to an integration bug in Apple's Safari mobile browser.
Investors have been punishing Twitter's stock after the past few quarterly earnings releases, as the company has continued to disappoint in terms of MAU growth. For example, after the 3Q14 results came out, Twitter's stock fell more than 10%. However, this time, investors ignored this concern and the stock went up by 16%—mainly on the back of better-than-expected revenue growth, as we discussed in the previous part of this series. Despite this increase, we believe slow MAU growth remains a risk to the stock going forward.
Please visit our Technology, Media and Telecom page for analyses of other stocks in these sectors.