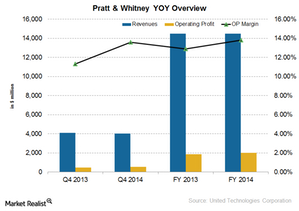 A look at UTX's Pratt & Whitney segment performance in 2014
By Ally Schmidt

Updated
About Pratt & Whitney
United Technologies's (UTX) Pratt & Whitney manufactures aircraft engines for the commercial, military, business jet, and general aviation markets, as well as auxiliary power units. It also includes maintenance, repair and overhaul services, including the sale of spare parts and fleet management services for large commercial engines.
The division competes with the Aerospace division of General Electric (GE), Honeywell International (HON), and Lockheed Martin (LMT). UTX forms ~6% of the holdings of the Aerospace and Defense ETF (PPA). For more details, read UTC's propulsion and aerospace segment.
Article continues below advertisement
Financial performance
Pratt & Whitney had a tough quarter in 4Q14, with its 4% growth in military engines offset by a 6% fall in total commercial aftermarket sales. As a result, its total organic sales dropped by 2%. The segment witnessed a 12% operating profit growth despite continued investment in E&D (engineering and development). Favorable pension and restructuring benefits also contributed to this growth. The quarter also saw better aftermarket contract performance, which helped offset lower aftermarket volumes.
For the year, the segment saw a growth of 2% in organic sales and operating profit growth of $200 million, along with margin expansion of 140 basis points. This growth was accompanied by pension restructuring savings and a stronger aftermarket, both from higher volume and better contract performance.
Looking ahead for Pratt & Whitney
Pratt & Whitney saw a key milestone in 2014—FAA certification for the Airbus A320neo platform. The fuel-efficient A320neo is expected to go into service in the fourth quarter of this year. This segment has a healthy backlog, with production needs at Airbus, Bombardier, Mitsubishi, and Embraer through 2018. The coming year should see pension headwinds for the segment, which should be balanced by the strong portfolio growth expected ahead.