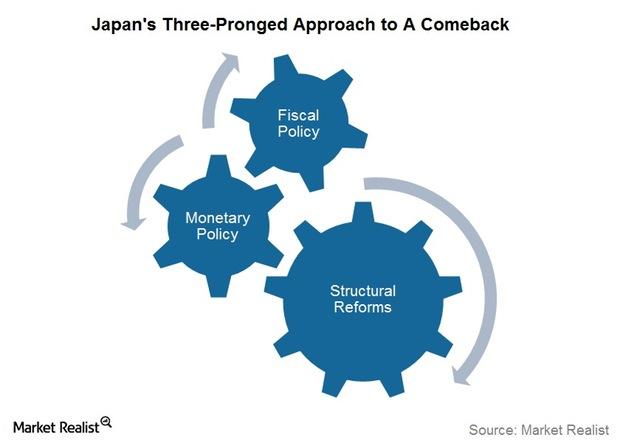 Why the G20 thinks that structural reforms are important
By David Ashworth

Feb. 27 2015, Updated 12:06 p.m. ET
What's structural reform?
Structural reform refers to changes in the broad fabric of the economy—including the function of the government as it relates to the economy. These reforms also imply changes in the regulatory structure, among other aspects, that are creating bottlenecks and hurting economic growth. Structural reforms can help demand increase by inducing confidence among investors—both internal and external, enhancing investment, and creating more jobs for people.
Usually governments are reluctant to pursue structural reforms. The reforms are difficult and complex to undertake. They can face stiff opposition. Also, their benefits can only be seen in the long term. In contrast, fiscal and monetary policies can display benefits in the medium term.
It's important to note that structural reforms are specific for each country. There isn't a set formula for designing or implementing structural reforms.
Article continues below advertisement
A case in point
Shinzo Abe, the Prime Minister of Japan, designed Abenomics. He counts structural reforms as one of the three arrows of invigorating the Japanese economy. One of his projects is Japan joining the Trans-Pacific Partnership, or TPP. Among other things, this requires Japan to make structural changes to its agricultural import quotas.
However, due to the powerful agriculture lobby, Abe had a hard time getting the reforms through. In January 2015, Mashima Yoshitaka, vice chair of the National Federation of Farmers' Movement, asked Japanese farmers to lead the talks on TPP to failure. This shows the stiff domestic opposition that a government can face while trying to make structural changes. It also makes the government unpopular.
If this third arrow misfires, Japan may still have a growth issue. This would be bad news for investors in the iShares MSCI Japan ETF (EWJ) and the WisdomTree Japan Hedged Equity ETF (DXJ).
The BLDRS Asia 50 ADR Index Fund (ADRA) has ~40% of its assets invested in ADRs (American Depository Receipts) in Japanese companies. It has the ADRs of Mitsubishi UFJ Financial Group (MTU), Sumitomo Mitsui Financial Group (SMFG), and Taiwan Semiconductor Manufacturing Company Limited (TSM) among its top ten holdings.
G20's take
The G20 finance ministers and central bank governors highlighted that the growth policies announced in the Brisbane Action Plan in November 2014 "include a substantial number of macroeconomic and structural reform commitments." These reforms are intended to "increase investment, lift employment and participation, enhance trade and promote competition, which are critical to enhancing the growth potential."
The IMF (International Monetary Fund) gave suggestions on the structural reforms required by different countries. We'll look at these reforms in the next part of this series.