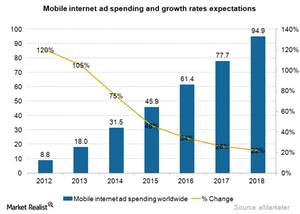 Facebook's Audience Network efforts are paying off
By Patricia Garner

Nov. 20 2020, Updated 3:44 p.m. ET
Facebook's Audience Network efforts are paying off
Facebook (FB) launched its Audience Network program early last year in beta. The Audience Network program allows a brand marketer to extend its advertising campaigns from the Facebook website or Facebook app to millions of other mobile apps. It also benefits developers by letting them effectively manage their ad inventories. In the third quarter last year, Facebook officially opened the Network to Facebook's 1.5 million advertisers to extend online campaigns across the mobile space.
Article continues below advertisement
Facebook launched this program with a goal of serving more relevant ads to people off of Facebook, expanding the reach of Facebook marketers. This move also provides better opportunity for publishers and advertisers to monetize their ads. In Q4, Facebook rolled out Audience Network around the world. Since then, the number of apps in the network has nearly tripled, and the impressions served by the network have more than quadrupled.
The product management director at Shazam, Rhiannon White, posted on the company's blog, "The Audience Network has delivered phenomenal performance for us. It's already a top performing ad network, driving a 37% increase in our revenue from ad networks. The targeting means the ads are more relevant to our users, and the diversity and quality of advertisers is top notch."
Facebook said that it's looking to partner with more publishers, increasing the value of their ad inventory and at the same time providing more relevant and targeted ads without disrupting the user experience.
Article continues below advertisement
The concept of providing targeted ads to users isn't new. Last year, Yahoo (YHOO) acquired Flurry to provide effective mobile advertising solutions for brands wanting to reach their audiences and gain unique insights into consumers' behavior. Google's (GOOG) AdMob is an ad program that allows mobile application developers to monetize their apps. In 2014, Twitter (TWTR) also released a new developer platform, Fabric, to help developers manage their ad inventories.
Internet companies are looking to leverage the fast-growing mobile ad market
Internet companies are making changes in their ad network programs to leverage the growth prospects of the mobile advertising market. According to a report from eMarketer, and as the chart above shows, mobile Internet spending is expected to grow at a healthy rate in the medium-to-long term. It could grow from $18 billion in 2013 to $95 billion in 2018, at a compound annual growth rate of about 40%.
You can gain portfolio exposure to Facebook by considering ETFs such as the Technology Select Sector SPDR ETF (XLK), where FB has an 4.1% weightage.