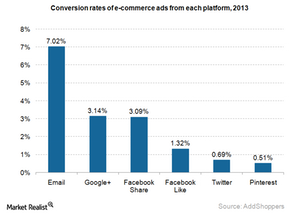 Facebook introduces new features to improve e-commerce conversion
By Patricia Garner

Dec. 4 2020, Updated 10:53 a.m. ET
Facebook introduced new features to improve e-commerce conversion
In the previous part of this series, we discussed how mobile use has become an important growth driver for Facebook (FB). However, Facebook has been looking to diversify its business from online advertisements to e-commerce.
E-commerce is a fast-growing market that Facebook should tap into. To give you an idea about the growth potential of this market, consider that Amazon's (AMZN) revenue increased by 15% year-over-year in the last quarter, while eBay's (EBAY) Marketplaces segment's revenues increased by 6% .
Q4 was an important quarter for Facebook (FB) from an e-commerce standpoint. The company launched its new "call-to–action" button, which helps Facebook pages drive business objectives.
Facebook Pages are for businesses, brands, and organizations to share their stories and connect with people. Like profiles, users can customize Pages by posting stories, hosting events, and adding apps.
Pages are an important destination for people on Facebook, and the company is building new, improved ways for people to interact with businesses through profiles.
Call-to-action buttons are designed to bring a business's most important objectives to the forefront of its Facebook page as well as links to any destination—on or off Facebook—that align with a business's goals.
The seven calls to action available are:
Book Now
Contact Us
Use App
Play Game
Shop Now
Sign Up
Watch Video
Page administrators can select from a group of call-to-action buttons to add to the top of their Page.
Article continues below advertisement
Call-to-action buttons helped boost Dollar Shave Club's customer acquisition efforts. Its director of acquisition, Brian Kim, posted on the company's blog, "Over the course of a three-week test, the Sign Up call-to-action button delivered a 2.5x higher conversion rate versus other comparable social placements aimed to drive new user acquisition."
Read more about this move in Market Realist's article Must-know ad products that help Facebook win business.
In the third quarter, Facebook was also testing the call-to-action button "Buy" with a few small and medium-sized businesses. This feature allows users to purchase a product directly from the merchant without leaving Facebook's site.
Facebook has yet to see conversion rates from this feature. However, Facebook feels that the feature plays a very important role in connecting consumers with the product that they purchase because of Facebook's relevant advertising tools.
Facebook is the most sought-after platform for e-commerce companies
According to a report from AddShoppers, and as the chart above shows, Facebook Share and Facebook Like command respective conversion rates of e-commerce ads of 3.09% and 1.32%. Email continues to lead this list, while Google+ (GOOG) is slightly ahead of Facebook. Twitter (TWTR) and Pinterest lag behind Facebook in this segment.
Technology companies Google, Facebook, and Amazon make up 14% of the PowerShares QQQ Trust, Series 1 (QQQ). You can gain portfolio exposure to these companies by investing in this ETF.