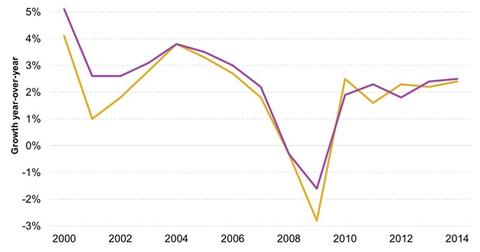 Can consumption do it without investment for the US economy?
By David Ashworth

Updated
Consumption important
A country's GDP (gross domestic product) can be calculated by adding consumption, private and government investment, and net exports. This is called the expenditure approach of calculating GDP. Net exports are calculated by subtracting total imports from total exports.
For the US, consumption forms a big chunk of the GDP. The fourth quarter release showed that PCE (personal consumption expenditures) formed 68.4% of US's $17.7 trillion GDP. Due to this large share, consumer spending rightfully drives economic growth in the US, as you can see from the above graph.
Article continues below advertisement
Goods and services
Of the PCE, services were twice the size of goods consumed according to the latest data. Household spending on services, including healthcare, formed 64.1% of PCE or ~44% of the total GDP. So, spending on services becomes crucial to the broader economic growth of the nation.
If consumers spend more on recreational activities, it will help in the revenue growth of companies like Walt Disney (DIS), Time Warner (TWX), and Twenty-First Century Fox (FOX). This in turn will help ETFs like the Consumer Discretionary Select Sector SPDR Fund (XLY), which invests in these companies.
But can consumption pull it off alone?
Investment is crucial
As large a share as PCE has in the US GDP, it needs the support of investments to keep the economy on a sustained growth path. A case in point is the year 2011. PCE had risen by 2.3%, but the economic growth rose by just 1.6%. Total government spending and investment had fallen by 3.0%, contributing to the slim economic growth.
Another example comes from data from 2012. PCE rose by just 1.8%, but the economy rose at a 2.3% pace for the year. Helping the economy was gross private investment, which rose by 9.2% in the year.
According to Q414 data, government spending and private investment formed 34.7% of the GDP. Government spending is volatile, and geopolitical circumstances may force it to refocus its finances elsewhere than planned. A resuscitation of private investment is important for the US economy to grow. This would also help equities, as well as ETFs like the SPDR S&P 500 ETF (SPY) and the iShares Core S&P 500 ETF (IVV).
Higher investment by businesses not only means higher revenue for them—it also means more jobs for people.
Speaking of jobs, let's look at the wingspan of jobs growth in the US in the next article.