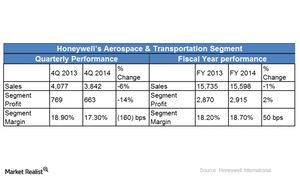 A snapshot of Honeywell's Aerospace and Transportation segment
By Ally Schmidt

Nov. 20 2020, Updated 2:31 p.m. ET
About the segment
Honeywell's (HON) Aerospace segment is a global provider of innovative solutions for regional and business aviation, defense systems, and air and other transportation systems. The company's products and services are found on virtually every commercial, defense, and space aircraft. Its turbochargers are used by nearly every automaker and truck manufacturer around the world.
Some of the technologies that the segment develops are:
Article continues below advertisement
Integrated avionics and communications systems
Propulsion and mechanical systems and components
Condition-based maintenance, logistics, and flight management services
Full-service solutions for airliners, business and general aviation aircraft, military aircraft, rotorcraft, and spacecraft
Turbochargers for passenger vehicles—gasoline, diesel, CNG (compressed natural gas), and hybrid—medium and heavy-duty trucks, and off-highway, heavy-duty equipment
brake pads, drums, rotors, hydraulics, and accessories
Its Transportation segment manufactures engine boosting systems for passenger cars and commercial vehicles. It also provides braking products. The key products include charge-air systems, thermal systems, brake hard parts, and other friction materials.
Key competitors
Honeywell's Aerospace segment competes with some of the industry's best-known names like Rolls Royce, Turbomeca, United Technologies (UTX), General Electric (GE), Goodrich (GR), Pacific Scientific, BAE Controls, Boeing (BA), Lockheed Martin (LMT), Northrop Grumman (NOC), Rockwell Collins (COL), and Raytheon (RTN). Some of these companies are a part of the Aerospace & Defense ETF (PPA).
In the transportation segment, Honeywell competes with BorgWarner (BWA), Holset, Behr, Modine (MOD), Valeo, ADVICS, Akebono, Continental, Federal-Mogul, ITT Corp., JBI, Nisshinbo.
Segment performance in the fourth quarter
The segment had a shaky quarter. Its total sales were down 6% year-over-year, or YoY. The decline was primarily due to three reasons:
The 184 million OEM (original equipment manufacturer) incentives for aerospace
The friction materials divestiture that closed in the third quarter
The impact of foreign exchange fluctuations
However, on an organic basis, the company's revenue grew 4% YoY as a result of strong portfolio-wide performance and accelerated growth in each of the three legacy aerospace businesses.
The transportation unit saw a 4% improvement on an organic basis over the year due to strong volume growth in light vehicle gas applications. However, it reported that revenue fell 16% due to the divestiture of friction materials and foreign exchange headwinds.
Commercial OE sales improved by 7% YoY on an organic basis. This reflected an increase in engine shipments and business in general aviation for the Bombardier Challenger 350 and Embraer Legacy 500.
Its defense and space unit sales grew 2% YoY on an organic basis due to strong international growth. It helped offset the declines in the U.S. Department of Defense and government service businesses.
The commercial aftermarket sales also improved 4% on both the reported and organic basis. It was driven by continued Air Transport and Regional spares growth. It was also driven by higher repair and overhaul activities in both airline and business jets.