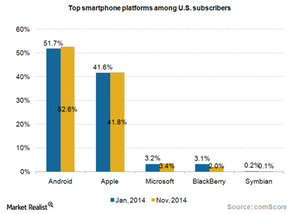 Partnership with Amazon is important for BlackBerry
By Puneet Sikka

Jan. 15 2015, Updated 8:21 a.m. ET
BlackBerry continues to struggle in the retail smartphone market
It's a well-known fact that BlackBerry (BBRY) continues to struggle in the retail smartphone market even though it's a decent player in the enterprise market. Overall, BlackBerry's fortunes continue to decline in the smartphone market.
According to a report from comScore and as the chart below shows, Google's (GOOG)(GOOGL) Android remains the top smartphone platform among US subscribers. Apple (AAPL) is a close second in this market, but Microsoft (MSFT) and BlackBerry remain niche players in this market. BlackBerry's share has declined steeply from 3.1% in January 2014 to 2.0% in November 2014, reflecting its struggles.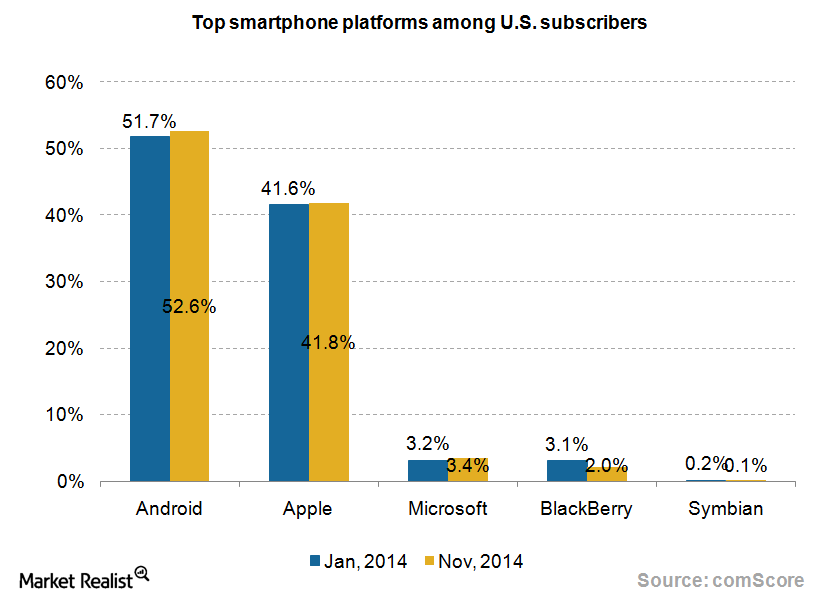 Article continues below advertisement
Partnership with Amazon should help BlackBerry
One of the main reasons for BlackBerry's struggles has been the lack of apps in its app store. An abundance of apps isn't only important for consumers who use apps, but also for developers, who earn a cut when users buy paid apps from the app store. The reluctance from developers toward apps for BlackBerry's operating system is understandable. BlackBerry's minuscule market share hardly gives them an opportunity to monetize their apps.
On the other hand, Apple (AAPL), in a recent press release on January 8, 2015, announced that billings from its App Store increased by 50% in 2014 year-over-year. It also announced that it generated $10 billion in revenues for its developers last year. More importantly, the abundance of apps makes the iPhone more attractive to consumers.
To resolve this issue, BlackBerry forged a partnership with Amazon (AMZN) in June last year. Under this agreement, Amazon will offer about 240,000 Android apps from its app store on BlackBerry 10 devices. This arrangement should help increase the attractiveness of BlackBerry's smartphones among retail consumers. It should also help BlackBerry save on costs that it would otherwise incur in convincing developers to build apps and maintaining a relationship with them.