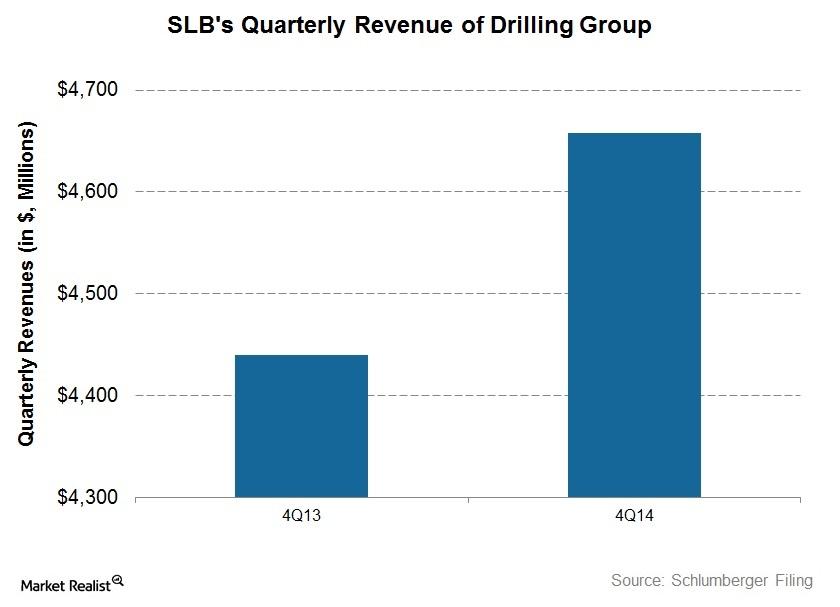 An overview of Schlumberger Drilling group's 4Q14 earnings
By Alex Chamberlin

Nov. 20 2020, Updated 4:25 p.m. ET
An overview of Schlumberger's Drilling group
Schlumberger's (SLB) Drilling group comprises Bits & Advanced Technologies, M-I SWACO, Geoservices, Drilling & Measurements, Drilling Tools & Remedial, and Integrated Project Management (or IPM) well subsegments. The group manufactures roller cone and fixed cutter drill bits, drilling fluid systems, mud logging services, directional drilling, measurement-while-drilling and logging-while-drilling services, and various drilling tools.
Article continues below advertisement
Revenues increased in the Drilling group
Why margins improved
Earnings before tax (or EBT) for 4Q14 increased ~10% to $966 million from $880 million in 4Q13. EBT margin improved to 20.7% in 4Q14 from 19.8% in 4Q13. Improving drilling efficiency, wellbore integrity, and optimizing well placement led to better results.
Leading international drillers use Schlumberger's drill technologies
During 4Q14, Schlumberger's deployed its mapping-while-drilling service in Australia for five horizontal development wells and one water injector. In Western Australia, the company's GeoSphere reservoir mapping-while-drilling service was also used to drill horizontal wells.
In China, Petrochina (PTR) used Schlumberger's drilling technologies in a shale gas well in the Sichuan province.
In Venezuela, Schlumberger's rotary steerable technology was deployed for PDVSA to improve drilling efficiency. PDVSA is a government-owned energy major in Venezuela. Read our article on Why Venezuela's oil policy changed the focus of US oil and gas. Royal Dutch Shell (RDS.A) used the same technology in the North Sea in Europe.
In Colombia, the government-owned energy company, Equión Energia, used SLB's rotary steerable technology and a Smith bit. The conventional drilling method was unsuccessful in executing the project.
In Western Kazakhstan, a combination of Schlumberger's conical diamond element and rotary steerable technologies were deployed for Zhaikmunai LLP, a member of Nostrum Oil & Gas Group. As a result, six days of drilling time was saved, amounting to $180,000.
Schlumberger's (SLB) Production group fared the best in 4Q14. Read the following section to find out how.