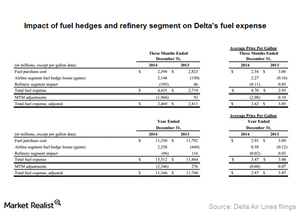 Negative impact of fuel hedges, decreasing crude oil prices
By Teresa Cederholm

Updated
Fuel expenses
Fuel is Delta's largest expense, comprising ~35% of its total operating expenses in 2014. Due to the dramatic fall in crude oil prices during the fourth quarter, Delta's fuel purchase cost per gallon decreased by 17% to $2.54 in 4Q14 from $3.06 a year ago, a decrease of ~17%.
However, the negative effects of hedging fuel at higher prices resulted in considerable hedging losses. The hedging losses increased the fuel price per gallon by $2.27. However, the $180 million in settled hedge losses were offset by a $105 million profit at the refinery. In 2012, Delta invested in the Trainer, Pennsylvania, refinery to reduce fuel prices, and the refinery has been profitable since 2Q14. For more details on the refinery's impact, refer to "Delta's unique strategy: Owning a refinery to contain fuel costs."
Article continues below advertisement
Fuel prices
After adjusting for the mark-to-market adjustments and the gains from Delta's refinery segment, Delta's average fuel price per gallon was $2.62, ~14% lower than in 4Q13. The company estimates its average fuel price per gallon to further decrease to $2.45–$2.50 per gallon in 1Q15. Delta estimates that fuel prices for the full year should be between $2.25–$2.35 per gallon, lower than in 2014.
The decreased fuel price is expected to lower fuel expenses by $2 billion, and Delta plans to reduce its debt and increase shareholder returns with the cost savings. Returns on transportation ETFs such as the iShares Transportation Average ETF (IYT) and the SPDR S&P Transportation ETF (XTN) will increase as crude oil continues to fall.
Fuel efficiency
Apart from fuel cost savings, Delta's fuel efficiency also improved. This was a result of fleet upgauging and retiring older aircraft to be replaced with more fuel-efficient aircraft. Fuel efficiency, measured as available seat miles (or ASM) per fuel gallon, increased by 1.3% in 4Q14 and the full year 2014.
All major airlines except American Airlines (AAL) hedged their fuel price at a higher prices without anticipating the fall in crude oil prices. The major airlines that should incur losses on their current hedged positions in the fourth quarter include Delta Air Lines (DAL), United Continental Holdings (UAL), Alaska Air Group (ALK), JetBlue Airways (JBLU), and Southwest Airlines (LUV).
These airlines were not able to realize the full benefit of falling crude price. This is one reason why airlines did not consider reducing airfares in spite of falling crude prices.