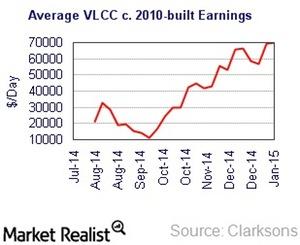 Navios Maritime Midstream business strategies and risks
By Katie Dale

Nov. 20 2019, Updated 12:49 p.m. ET
Business strategies
Navios Maritime Midstream Partners (NAP) seeks to continue growing and diversifying its fleet of owned and chartered-in vessels though strategic acquisitions. With the strategy of long-term charters and strong relationships with reputable shipyards, the company seeks to increase its distributable cashflow per unit and also attain financial flexibility.
Additionally, Navios Midstream strategizes to provide superior customer service by maintaining high standards of performance, reliability, and safety with the support of its group companies.
Article continues below advertisement
Associated risks
As an emerging growth company, Navios Midstream carries certain associated risks with its business. Firstly, it may not have sufficient cash from operations to pay the minimum quarterly distribution on common units. These payments follow the establishment of cash reserves and payment of fees and expenses.
Secondly, Navios Midstream's initial fleet consists of only four vessels. Any limitation on the availability or operation of those vessels could have a material adverse effect on its business, financial condition, results of operations, and cash flows.
Another disadvantage for Navios Midstream is that the company focuses on employing vessels on long-term charters of at least five years, which may not be typical for the crude oil, refined petroleum product, chemical, and liquefied petroleum gas sectors of the seaborne transportation industry. In this scenario, it cannot take benefits of spot charter rates in a rising market like its other industry (SEA) peers, such as Teekay Tankers (TNK), Frontline Ltd. (FRO), Nordic American Tankers (NAT), and Capital Product Partners (CPLP).
Additionally, the company currently depends on only two customers for its revenue. Charterers may terminate or default on their obligations to NAP, which could have a materially adverse effect on its operations and cash flow.