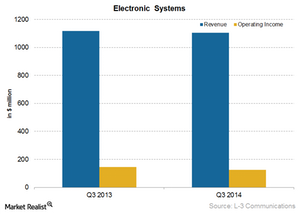 A look at the performance of LLL's Electronic Systems segment
By Ally Schmidt

Updated
Electronic Systems
The Electronic Systems segment of L-3 Communications Inc. (LLL) serves defense, commercial, and international customers. The segment caters to businesses in niche markets, providing them with a broad range of products and services:
EOIR (electro-optical infrared) sensors
precision engagement solutions
night vision equipment
power and control systems
simulation and training
warrior systems
millimeter wave screening technology for security and detection
propulsion systems
avionics and displays
telemetry and advanced technology
undersea warfare systems
marine services
In this article, we will look at the performance of LLL's Electronic Systems segment.
Article continues below advertisement
Performance in 3Q14
In the third quarter of 2014, the Electronic Systems segment saw a 1% year-over-year decline in net sales to $1.1 billion. This decline came about due to weak Sensor Systems segment sales, which resulted from lower volumes for airborne EOIR turrets. This in turn was due to the planned US military drawdown from Afghanistan. However, the governments of Sweden and New Zealand ordered 8,000 laser-aiming devices, strengthening the segment's prospects for the future.
Year-to-date performance
Electronic Systems' net sales for the 2014 year-to-date period fell by 2% to $61 million compared to the 2013 year-to-date period. Sales decreased due to the completion of a Sensor Systems contract; reduced deliveries in the Precision Engagement & Training sector; and lower demand for holographic weapon sights for the commercial sporting and recreational markets.
The segment's operating income decreased by $5 million or 1% during the same period. Operating margin increased by 10 basis points to 11.7%. This was due to a lower pension expense of $23 million and improved contract performance, primarily for Precision Engagement & Training. Lower Sensor Systems sales, reduced accrued contingent consideration in the 2013 year-to-date period, and higher severance costs of $4 million partially offset these increases.
L-3's major competitors include Northrop Grumman Corporation (NOC), Raytheon Company (RTN), and United Technologies Corporation (UTX). These companies form a part of the Industrial Select Sector SPDR (XLI).
In the next article, we will look at L-3's Communication Systems segment.