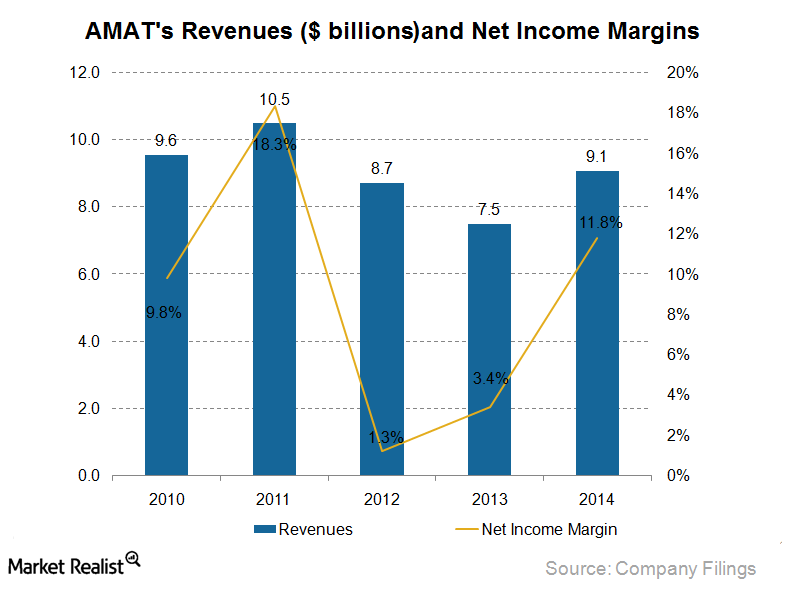 Why investors should understand Applied Materials' financials
Operating segments and performance
Article continues below advertisement
Margins, cash, and debt position
In 4Q14, Applied Materials produced its eighth consecutive quarter with higher operating margins. On a five-year average, Applied Materials' gross margin, operating margin, and net profit margin were ~42%, 14%, and 7%, respectively. As of October 30, 2014, Applied Materials had cash equivalents and short-term reserves of $3.17 billion. It had total debt of $1.95 billion.
If Applied Materials posts good results, it will benefit ETFs—like the Technology Select Sector SPDR (XLK)—that have significant exposure to Applied Materials.
 
R&D and engineering
In 2014, the company spent $1.4 billion on R&D (research and development) and engineering. The company spent ~16%, 18%, and 14% of their revenue in R&D and engineering in fiscal year 2014, fiscal year 2013, and fiscal year 2012, respectively.
Applied Materials spent ~13% of its net revenue on R&D and engineering in the last five years. In 2014, other companies in the semiconductor space—NVIDIA (NVDA), AMD (AMD), and Intel (INTC)—invested ~32%, 22%–24%, and 20%–21%, respectively, of their revenue in R&D.
Increased investment in R&D ensures that Applied Materials intends to be at the technological forefront with its diverse product offerings. Due to its diversified presence in the semiconductor space, its customers can purchase the majority of semiconductor products and equipment. It can set up the whole system to run as an automated unit.
This is mutually beneficial for customers. Also, it provides Applied Materials with large orders. Increased R&D, engineering, and investments prepare the company for the ongoing transitions to larger wafer sizes and smaller process nodes. It also provides access to the customer base and scalability from Applied Materials. The Tokyo Electron deal is expected to put the company in a competitive position—compared to its peers.