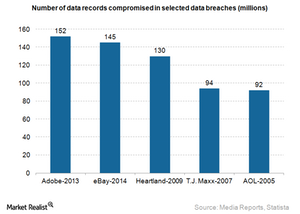 Why more frequent data breaches are a positive for BlackBerry
By Puneet Sikka

Updated
Incidents of cyberattacks continue to increase
Last year, we saw a number of data breaches with big companies. 2014 started with a data breach at Target (TGT), which compromised 70 million credit and debit card accounts. A cyberattack on eBay's (EBAY) database in May last year was one of the worst attacks ever. According to eBay, this cyberattack compromised about 145 million user records. According to a report from Statista and as the chart below shows, the cyberattack on Adobe (ADBE) in 2013 was the worst ever. It affected 152 million records.
In August, 2014, Home Depot (HD) announced that its payments systems have been hacked at about 2,200 US and Canadian stores. More recently, Sony (SNE) was in the news when it acknowledged that hackers leaked confidential documents from its systems.
Article continues below advertisement
BlackBerry has a complete set of security solutions
Clearly, the number of data breaches at enterprises has increased in the last few years. These incidents have happened mainly because of less secure systems. These incidents affect enterprises financially in a big way. For example, due to the cyberattack, eBay lost a considerable amount of user engagement on its site. To overcome this issue, eBay had to step up targeted marketing efforts to re-engage users, which affected its operating margins.
BlackBerry (BBRY) is well known for providing secure systems, and enterprises have always valued that approach. The trend of more and more data breaches is a positive for BlackBerry, as enterprises will now start to focus more on security. The data transmitted between BlackBerry Enterprise Server and smartphones are encrypted, which makes hacking difficult. The data include messages carried by email and the BlackBerry Messenger (or BBM) service.
BlackBerry recently acquired Secusmart, which deals with providing security solutions for voice, data, and text communication. Read Why did BlackBerry make a few acquisitions last quarter? to learn more about Secusmart. With Secusmart, BlackBerry has a complete portfolio of security solutions now.