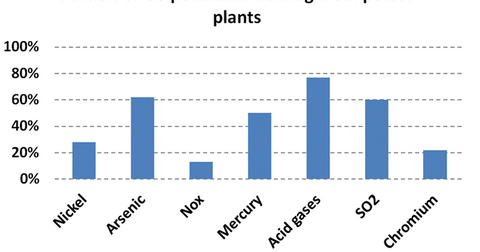 Important issues facing coal-fired power plants
By Mike Sonnenberg

Jan. 14 2015, Updated 4:05 p.m. ET
Regulatory issues
As we discussed earlier in this series, coal (KOL) is the cheapest but most polluting fossil fuel. Power plants emit harmful pollutants like mercury, arsenic, nickel, and sulfur dioxide into the air. While coal accounted for 19% of overall US energy consumption in 2013, it resulted in 32% of carbon dioxide emissions in the same year, according to a US Energy Information Administration (or EIA) report.
Article continues below advertisement
With the goal of a cleaner environment in mind, the US Environmental Protection Agency (or EPA) has issued carbon dioxide emission standards and mercury and air toxic standards. The first standard requires new coal-fired power plants to limit carbon dioxide emissions to 1,100 pounds of carbon dioxide (or CO2) per megawatt hour. This means that new plants will have to reduce uncontrolled carbon dioxide emission by 50% compared to existing plants.
Changing energy mix
In order to diversify energy sources and to control air pollution, governments across the world are designing policies to reduce coal use. China, which holds the largest power generation capacity in the world, has started shifting away from coal to other sources like renewables (TAN)(FAN) and nuclear energy (NLR). Historically, coal has accounted for around 80% of power generation capacity in China. In contrast, only 39% of the plants that came online in 2013 were powered by coal.
Higher capital and costs
Coal-fired power plants are costlier to build than natural gas power plants. Power plant capital costs, using the most basic coal-fired technology (according to the EIA), come in at around $3 million per megawatt. On the other hand, most basic natural gas–based plants cost $900 thousand per megawatt—70% lower. To comply with new strict regulations, coal-fired power plants will have to adopt technology called "carbon capture and sequestration" (or CCS). A CCS-based coal-fired plant costs $4.7 million per megawatt, while CCS-based natural gas–fired power plants cost $2.1 million per megawatt.
All major global equipment manufacturers, including GE Energy (GE), Siemens, Hitachi, and Mitsubishi Heavy Industries, can build coal-fired power plants.
While coal-fired plants aren't in vogue, some opportunities remain. We'll look at these opportunities in the next part of this series.