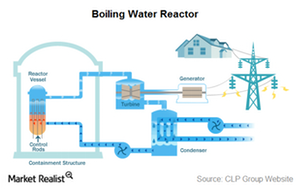 The essential basics of nuclear power plants
By Mike Sonnenberg

Jan. 16 2015, Updated 8:05 a.m. ET
Basics
Put simply, nuclear power plants generate electricity using heat from nuclear reactions. The nuclear reactions take place inside a nuclear reactor. The heat generated during the reaction boils water to generate steam. The steam drives the turbine to generate electricity. Nuclear reactors normally use uranium as a fuel. Uranium atoms split into lighter elements inside the reactor in a process called "nuclear fission." Nuclear fission generates substantial heat, which in turn is used to generate electricity. Uranium Resources (URRE) and Cameco (CCJ) are two of the biggest uranium mining companies.
Article continues below advertisement
Role of water
Water plays an important role in nuclear power plants. Just like coal-fired power plants, water is used to generate steam to spin the turbines. Moreover, water is also used in controlling radioactive waste and in managing risks associated with nuclear power plants. Water-based cooling systems are used to store used fuel to avoid radiation. Further, in the event of trouble, radioactive water is discharged in local water bodies up to a permissible limit. As a result, nuclear power plants consume more water per unit of electricity than other types of plants. Use of water differentiates two commonly used nuclear reactor designs.
Design
There are two common nuclear reactor designs.
boiling water reactor (or BWR)
pressurized water reactor (or PWR)
In a BWR, the same water steam runs through the entire power plant. Steam is generated inside the reactor, which spins the turbines. The steam cool back into water and returns to the reactor. As the water around the core reactor always contains some traces of radioactive substances, any leakage may result in radiation. Fukushima Nuclear Power plant in Japan, where a disaster happened in 2011, ran six BWRs designed by General Electric (GE). GE is part of various ETFs, including the SPDR S&P 500 ETF (SPY) and the Industrial Select Sector SPDR ETF (XLI).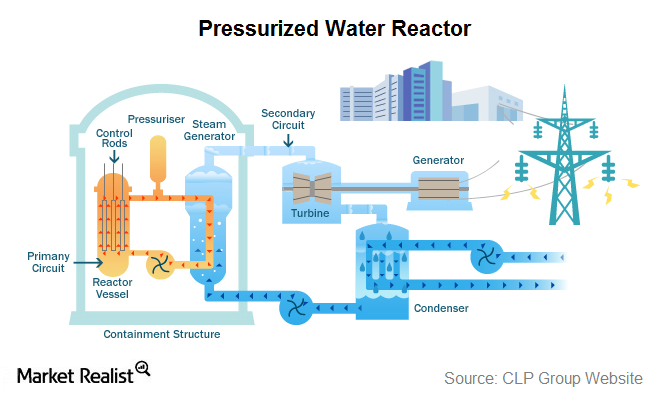 A PWR overcomes the drawback of a BWR by separating water used inside the reactor for waste management from that used to generate steam. The water inside the reactor is used at a high pressure and high temperature. Because of the high pressure, the water doesn't convert into steam. The hot water in the reactor transfers heat to a second circuit to generate steam for electricity generation. In case of leakage, the pressurized water in the reactor is released into water bodies to avoid radiation in the air.