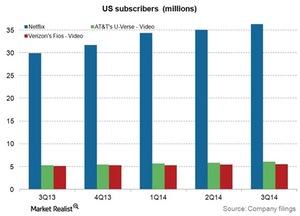 Competition from other industries—OTT voice and content companies
By Ray Sheffer

Jan. 19 2015, Updated 4:13 p.m. ET
Competition from OTT
Apart from facing stiff competition from cable companies, telecom companies are challenged by non-facility based OTT (over-the-top) players in voice and TV services. OTT companies don't own or operate internet services. They provide services—like video and voice—directly to users. They provide the services over the top of public Internet.
In television services, telecom companies challenge the OTT content companies—like Netflix (NFLX). In the Voice segment, telecom companies defend their market share from web-based OTT solutions—like Microsoft's (MSFT) Skype.
Article continues below advertisement
IPTV and OTT content companies
Telecom companies provide TV services over a broadband connection. AT&T's (T) U-Verse and Verizon's (VZ) FiOS both offer IPTV. Unlike internet video—which can stream over the public Internet—IPTV uses a telecom company's own private or managed network. Therefore, the quality of videos on an IPTV is controlled by the network providers—telecom companies.
Also, IPTV is more interactive than traditional television services. Users can use different internet applications on the TV—like sharing pictures, recording videos, and getting video on demand. Read Why FiOS Quantum TV could help improve Verizon's customer service to learn more.
OTT content providers—like Netflix, Hulu, and Amazon (AMZN)—provide videos over the Internet. It's based on a subscription model. The quality of OTT services depends on the network that subscribers use to watch videos.
OTT providers command a significant portion of this market. As you can see from the above graph, Netflix had 36.3 million subscribers—compared to U-Verse and FiOS's combined video user base of 11.6 million at the end of 3Q14.
Telephony and OTT voice applications
In the voice segment, telecom companies face competition from OTT applications—like Microsoft's Skype and Google Voice. These companies offer free and low-cost voice and video services.
They affect telecom companies in the voice segment—particularly in international calling and roaming services. In these services, OTTs are usually more cost-effective than telecom companies.