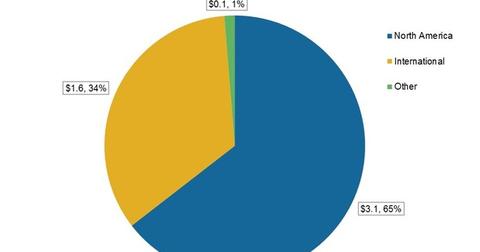 Where Coach Derives Its Revenues
By Phalguni Soni

Jan. 16 2015, Published 8:54 a.m. ET
Analyzing Coach's business segments
Coach, Inc. (COH) reports revenues according to two major segments—North America and International. North American revenues include sales from the US, Coach's home market, and Canada. Sales from the International segment include those derived from overseas markets, notably Japan and China, its largest international markets.
Article continues below advertisement
North America
In fiscal 2014, Coach had 539 retail stores and factory outlets in North America. This is the company's largest segment, accounting for 65% of revenues, or $3.1 billion in fiscal 2014.[1. Fiscal year ending June 28, 2014]
Revenues include sales made through company-owned stores, sales made through other retailers such as Macy's (M), Nordstrom (JWN), and Sears (SHLD), as well as sales made through factory outlets and the company's e-commerce websites in the US and Canada. You'll read about these channels and their drivers in detail in the next part of this series.
The North American segment is also the most profitable, with an operating profit margin of 37.5%. It earned an operating income of $1.1 billion on sales of $3.1 billion in fiscal 2014.
International
International sales include those earned from Coach's operations in Japan, China, and other countries in Asia and Europe. Travel retail represents a large chunk of these revenues. For more on this key growth driver, read Part 15 of this series.
Coach has a presence in 35 countries worldwide, either directly through its own stores, or indirectly through other retailers and distributors. It also operates e-commerce websites in Japan and China.
The segment reported revenues of $1.6 billion in fiscal 2014, or 34% of the company's total. Segment profitability is lower than the North American segment. Operating margin came in at 33.8% on operating income of $0.6 billion in fiscal 2014.
Other revenues
These primarily include licensing fees received from the company's worldwide product deals with companies including Movado (MOV) for watches, Estee Lauder (EL) for fragrances, Luxottica for sunwear, and Jimlar for footwear. This month, the company announced plans to acquire footwear brand Stuart Weitzman. You'll learn more about this acquisition in Parts 17 and 18 of this series.
Licensing revenues came in at $27.9 million in fiscal 2014. Total revenues in the "Other" segment came in at $61.5 million.
Coach is part of the SPDR MSCI World Quality Mix ETF (QWLD).