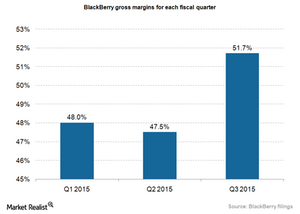 BlackBerry expects lower gross margins for next 2 quarters
By Puneet Sikka

Updated
BlackBerry's gross margins increase
As you can see in the chart below, BlackBerry's (BBRY) gross margins increased in the last quarter, from 47.5% in fiscal 2Q15 to 51.7% in fiscal 3Q15. This increase happened because of BlackBerry smartphones' increased margins, offset by a loss of leverage from declining service segment revenues. We reviewed the company's service segment prospects in the previous part of this series.
Surprisingly, smartphone gross margins increased despite BlackBerry's attempt to clean out its old inventory in the last quarter. The company offered huge discounts to customers, which pushed down its smartphones' average selling price. However, efficient supply chain and distribution management helped BlackBerry avoid the write-downs that its hardware business has had to face in the past.
Article continues below advertisement
Gross margins could decline in the next two quarters
BlackBerry now expects its gross margins to remain in the high 40% range for the next two quarters. Again, this is a surprise because BlackBerry's two main smartphones—Passport and Classic—will start recognizing revenue from this quarter onward.
The Passport and Classic are considered BlackBerry's main weapons in the battle against Apple's (AAPL) iPhone and Google's (GOOG)(GOOGL) Android-based smartphones, especially in the enterprise segment. Both Passport and Classic have the support of major US carrier, AT&T (T). AT&T is even selling a customized BlackBerry Passport smartphone. These smartphones have higher gross margins because of their high average selling prices.
Still, because BlackBerry expects a decline in service revenue to be faster, we can expect to see its overall gross margins fall. The important point to note is that the service segment is a high-margin business. So, a drastic decline in service revenues will impact overall gross margins much more than any increase in margins from the expected success of Passport and Classic smartphones.