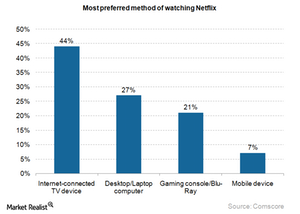 Verizon aims to deliver more content over wireless networks
Verizon looks to acquire over-the-top mobile rights
Previously in this series, we've looked at how cable and satellite TV companies are struggling in the traditional pay-TV market. These companies are offsetting the slowdown in TV advertising by increasingly delivering content online, or "over-the-top." Satellite TV providers such as DISH Network Corp. (DISH) and broadcasters such as Time Warner, Inc. (TWX) and CBS Corporation (CBS) are trying to leverage the fast-growing video streaming market.
Meanwhile, Verizon Communications Inc. (VZ) has other innovative plans to tap this market growth. It's looking to acquire the rights to deliver content using wireless technology. Verizon calls this "over-the-top mobile."
Article continues below advertisement
In an earlier Market Realist article, Why Verizon is looking to get more rights for video content, we learned that Verizon already has agreements with the NFL (National Football League) and IndyCar for the right to stream NFL games via its customers' smartphones. We also discovered how delivering more content over wireless networks could help Verizon. Having said that, however, streaming videos via wireless has not yet caught on with the masses.
Wireless is the least preferred method of watching Netflix videos
According to a report from research firm comScore, and as the chart above shows, the most preferred mode of watching Netflix, Inc. (NFLX) is on Internet-connected TV devices such as Apple, Inc.'s (AAPL) Apple TV or Google, Inc.'s (GOOG)(GOOGL) Chromecast. A full 44% prefer Internet-connected TV devices when watching Netflix. Only 7% prefer watching Netflix on mobile devices.
The reason why mobile devices are the least preferred device for viewing Netflix content is the higher prices associated with wireless data plans. Verizon's LTE multicast technology will make mass video transmission for live events content over wireless networks more efficient and as a result, cheaper. Verizon is expected to completely roll out this technology by next year. To learn more about this topic, read VZ is waiting for compatible devices to implement LTE multicast.