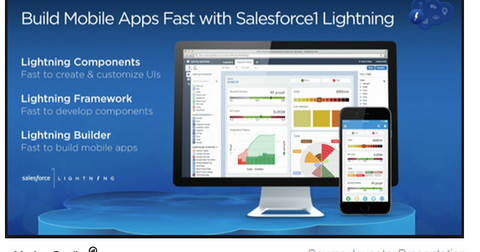 Salesforce launches Salesforce1 Lightning platform
By Anne Shields

Updated
Salesforce1 Lightning platform for mobile apps
The 2014 Dreamforce conference introduced some revolutionary apps to the masses. The launch of the Salesforce1 Lightning platform for mobile devices generated particular interest. Salesforce.com (CRM) cofounders Marc Benioff and Parker Harris claimed that the platform was "the fastest way to build mobile apps."
Article continues below advertisement
Key features
Salesforce1 Lightning is an HTML5-based platform. So, once an app is created, it can run on all device types.
One key feature of the platform is the Lightning App Builder. Its drop-down menus and drag-and-drop interface help users to assemble apps quickly from prebuilt components made by the company and its partners. The builder has more than 400 objects to choose from and a list of pre-configured templates for commonly requested app types. The templates speed up the mobile app creation process.
All apps created run on Salesforce1's cloud for Google (GOOGL) (GOOG) Android, Apple (AAPL) iOS, BlackBerry (BBRY), and Microsoft (MSFT) Windows mobile devices.
For more details on the Salesforce1 Lightning platform and the company's expansion in the field of wearables, please read Must-know: Salesforce.com launched Salesforce1 Community Cloud and Why Salesforce is entering the wearable device market.
Lightning provides major boost to Salesforce1 cloud platform
According to IDC analyst Al Hilwa, "Until this announcement, Salesforce1 has been focused on [application programming interfaces] and back-end functionality. This announcement really begins to pull this platform together from a front-end perspective, making it a more compelling end-to-end offering." Lightning apps on the Salesforce1 cloud platform do everything from providing analytics and dashboards to handling complex cases that involve business processes.