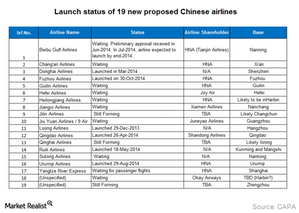 Rising competition in Chinese aviation industry may impact yield
By Teresa Cederholm

Dec. 23 2014, Updated 11:39 a.m. ET
Proposed launch of new airlines in China
In China, competition from new players continues to increase as regulation on the entry of new airlines has recently relaxed. This was done with a view toward stimulating growth, promoting efficiency, and improving profitability of the airline industry, now dominated by the three state-owned airlines. According to Centre for Aviation (or CAPA), six of the 19 new proposed Chinese airlines launched within the last year, and the rest plan to launch by the end of 2014.
Article continues below advertisement
Promoting development of low-cost carriers
China Eastern is the first state carrier to launch a low-cost carrier, China United Airlines. The Civil Aviation Administration of China (or CAAC) set up the policies for the development of low-cost airlines. CAAC plans to provide private capital and encourage full-service airlines to set up wholly owned low-cost carriers. CAAC also loosened control over pricing by removing the limit for decreasing air fares.
A portion of the new flight schedules in major airports will be reserved for the new entrants. The entry of low-cost airlines and changes in regulations and policies will have a major impact on traditional carriers in China, especially China's Big Three carriers: China Southern (ZNH), China Eastern (CEA), and Air China (AIRYY). The Guggenheim China Small Cap ETF (HAO) and the Guggenheim China All Cap ETF (YAO) invests in these airline stocks.
Competition from high-speed rail
Increased competition from new players, air fare pricing policy reforms, and the expansion of China's domestic high-speed rail network has put a downward pressure on yields. This is evidenced by the falling yield experienced by all the major airlines in China.
The high-speed rail network provides train services at a speed of up to 350 kilometers per hour. The network connects all major cities in China, including Beijing, Shanghai, Wuhan, Qingdao, Guangzhou, Dalian, and Hong Kong. China Eastern's market share in some of the key routes between 500 km to 800 km has been impacted by the launch of the high-speed railway. China Eastern is taking measures to overcome competition by adjusting air fares and decreasing short-haul routes that overlap with the high-speed train routes.