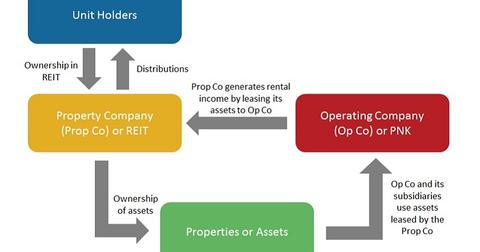 Pinnacle Entertainment announces separation plans
By Shawn Bolton

Updated
Separation plans
In November 2014, Pinnacle Entertainment, Inc. (PNK) announced plans to pursue a separation of its operating and real estate assets into two publicly traded companies. The real estate assets division, which is the property company (or Prop Co), will spin off into a real estate investment trust (or REIT). The common stock of the Prop Co, or REIT, will be distributed to Pinnacle Entertainment's stockholders, and the company will remain an operating entity (or Op Co) following the transaction.
Under the plan Pinnacle Entertainment is pursuing, Prop Co will initially own the real estate assets of Pinnacle Entertainment with most of the assets being leased back to Op Co for use by its subsidiaries through a triple net lease agreement. In a triple net lease agreement, the lessee (or tenant) is solely responsible to pay for real estate taxes, insurance, and maintenance on the leased asset.
After the proposed separation, Op Co, through its licensed subsidiaries, will operate gaming entertainment centers in the facilities it leases from Prop Co. Op Co will own other assets, including gaming licenses, gaming equipment, and other noncasino assets and equity interests. Pinnacle Entertainment (PNK) expects to complete this REIT transaction in 2016.

Recent casino REITs
Last month, Caesars Entertainment (CZR) made a proposal to certain of the first lien creditors about a plan to convert its largest operating unit, Caesars Entertainment Operating Company (or CEOC) into an REIT as it considers restructuring its massive $18.4 billion debt. To know more, read the article Caesars plans to restructure its largest operating unit as a REIT.
In November 2013, Penn National Gaming (PENN) separated its real property assets division into an REIT named Gaming and Leisure Properties (GLPI) through a spin-off. To know more, read the article Penn National Gaming's performance metrics.
An exchange-traded fund (or ETF) such as VanEck Vectors Gaming (BJK) invests in casino companies.