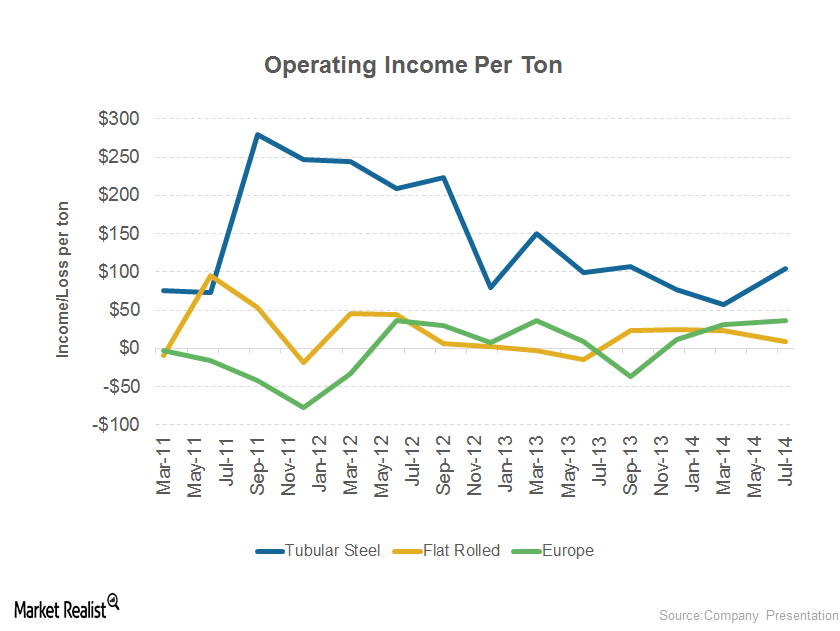 Overview: Importance Of US Steel's Tubular Segment
Importance of US Steel's tubular segment
US Steel's tubular segment has generally been the most profitable segment for US Steel (X). While other company segments have seen frequent losses in the past, tubular operations have remained largely profitable.
In the second quarter, US Steel's tubular segment generated a profit per ton of $105. It was much higher than the $36 per ton in European operations and $9 per ton in the flat-rolled segment. Read Market Realist's recent article on US Steel's reporting segments for more information.
Article continues below advertisement
Per ton profitability of tubular segment
The chart above shows the trend in profit generated per ton for various segments. As you can see, the tubular segment has generated the highest profitability per ton. This is because of the value-added nature of tubular products. Value-added products generally sell at higher prices.
AK Steel (AKS) gets a major part of its revenues from value-added products. It recently launched a new stainless steel product that is free from nickel.
US Steel's (X) strength is tubular steel, and the company is the largest supplier in the North American market. Similarly, every steel company has its individual area of strength. For Nucor (NUE) it is the construction industry where it is the largest supplier. Currently it's among the top ten holdings of the SPDR S&P Metals and Mining ETF (XME).
ArcelorMittal (MT) has its expertise in making steel for the automotive industry. It has recently launched a high strength steel product. This product will help MT in meeting the lightweight needs of automobile companies.
We'll look at what percentage of US Steel's profits come from its tubular segment in the next part of this series.