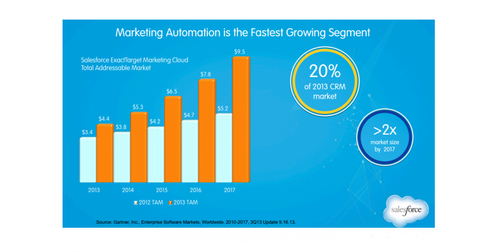 Oracle eyes online mobile marketing space
By Anne Shields

Updated
Oracle keen on cloud marketing, analytics market
Oracle (ORCL), like its peers Salesforce.com (CRM), Adobe (ADBE), and IBM (IBM), aims to cater to the online mobile marketing space with advertising tools for marketers. Oracle's advertising spend is shifting toward digital channels, with controlling power going to CMOs rather than CIOs.
Article continues below advertisement
Shift in power from CIOs to CMOs controls IT spending
Gartner states that Chief Marketing Officers (or CMOs) rather than CIOs would control a larger portion of their corporate IT spend. The ExactTarget acquisition of $2.5 billion that enabled Salesforce to grow its marketing cloud platform is a beneficiary of this trend. This shift is also expected to benefit Adobe (ADBE).
In 3Q14, Adobe noted that it expects its marketing cloud to grow at a minimum CAGR of 25% from fiscal 2014 to fiscal 2016. Its marketing cloud presence was boosted by the Neolane acquisition. Neolane is an advertising campaign software vendor whose Integrated Marketing Management and CRM Multichannel Campaign Management contributed significantly to Adobe's marketing cloud success.
After its acquisition of e-commerce software firm hybris, SAP (SAP) is working to develop an end-to-end CRM platform aimed at CMOs and CEOs. Its CEO Bill McDermott noted that SAP wants to provide "everything a CEO needs to run a corporation in full intimacy with their consumer" in real time.
Huge growth in marketing automation
Gartner expects "marketing to be the largest growing CRM category through 2017." The International Data Corporation (or IDC) expects the overall market for marketing automation to grow from $3.2 billion in 2010 to $4.8 billion in 2015.
It's no wonder that Oracle recently bought Datalogix, as mentioned earlier in this series, to complement its Eloqua B2B marketing automation and Responsys B2C marketing automation platform.