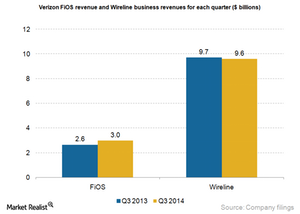 FiOS Quantum service: A positive for Verizon's wireline business
By Puneet Sikka

Nov. 20 2020, Updated 3:24 p.m. ET
Verizon's FiOS business becoming important for its wireline business
In a recently published article, Wireless segment drives growth at Verizon, we learned that the wireline segment contributes only 32% to Verizon Communications Inc.'s (VZ) overall revenues. We also discovered that the segment's operating margins are less than half those of Verizon's wireless segment.
Nonetheless, FiOS is an important business within Verizon's wireline business, contributing more than 30% to its revenues. Verizon's FiOS is a high-speed broadband connection based on a fiber optic network. More importantly, it's the only wireline business with double-digit revenue growth. As the chart below shows, FiOS revenues grew from about $2.6 billion in 3Q13 to $3.0 billion in 3Q14, or more than 12%. At the same time, Verizon's wireline business revenues declined from $9.7 billion to $9.6 billion, a decline of 0.8%.
Article continues below advertisement
Verizon FiOS faces the biggest threat from cable companies
Verizon credits this growth to the higher adoption of the FiOS Quantum service. FiOS Quantum provides high Internet speeds ranging from 50 to 500 Mbps (megabits per second). To date, 57% of FiOS customers have adopted the Quantum service. This is up from last year's penetration rate of 41%.
Although Verizon managed to gain 162,000 net FiOS Internet customers in 3Q14, its biggest threat comes from cable companies such as Comcast Corporation (CMCSA), Time Warner Cable Inc. (TWC), and Charter Communications, Inc. (CHTR). For more on this topic, read Why cable companies are dominating the US broadband space.
The impending merger of Comcast and Time Warner Cable has the potential to influence the broadband market in a big way. The combined entity would cover 60% of US broadband households, making it the bigger threat to Verizon.
Meanwhile, Google (GOOG)(GOOGL) is also trying to become a major force in the broadband Internet market. Google Fiber is the broadband Internet and TV initiative that Google plans to roll out in 34 cities across the US. Google claims its initiative can provide Internet speeds of one Gbps (gigabit per second).
At the same time, AT&T Inc. (T) is looking to further expand its super-fast Internet service, GigaPower service, in the US market.