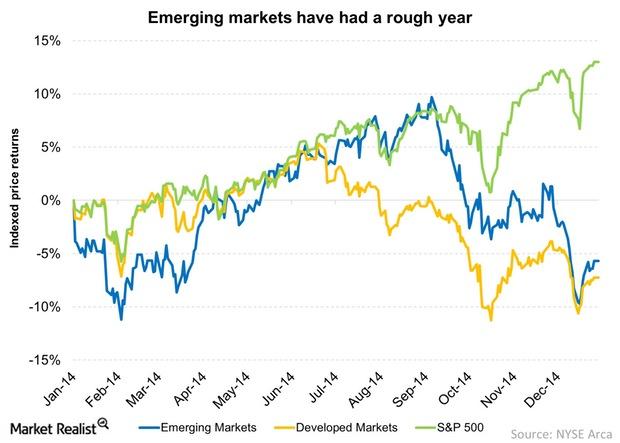 Why Emerging Markets Underperfomed In 2014
By Russ Koesterich, CFA

Dec. 31 2014, Published 3:04 p.m. ET
Despite emerging markets' weak recent performance, Russ believes there are two major reasons why investors should consider overweighting select countries
"Is it time to enter emerging market equities?" That's what many investors are wondering given that emerging market stocks are down significantly since fall lows and have underperformed US stocks year to date.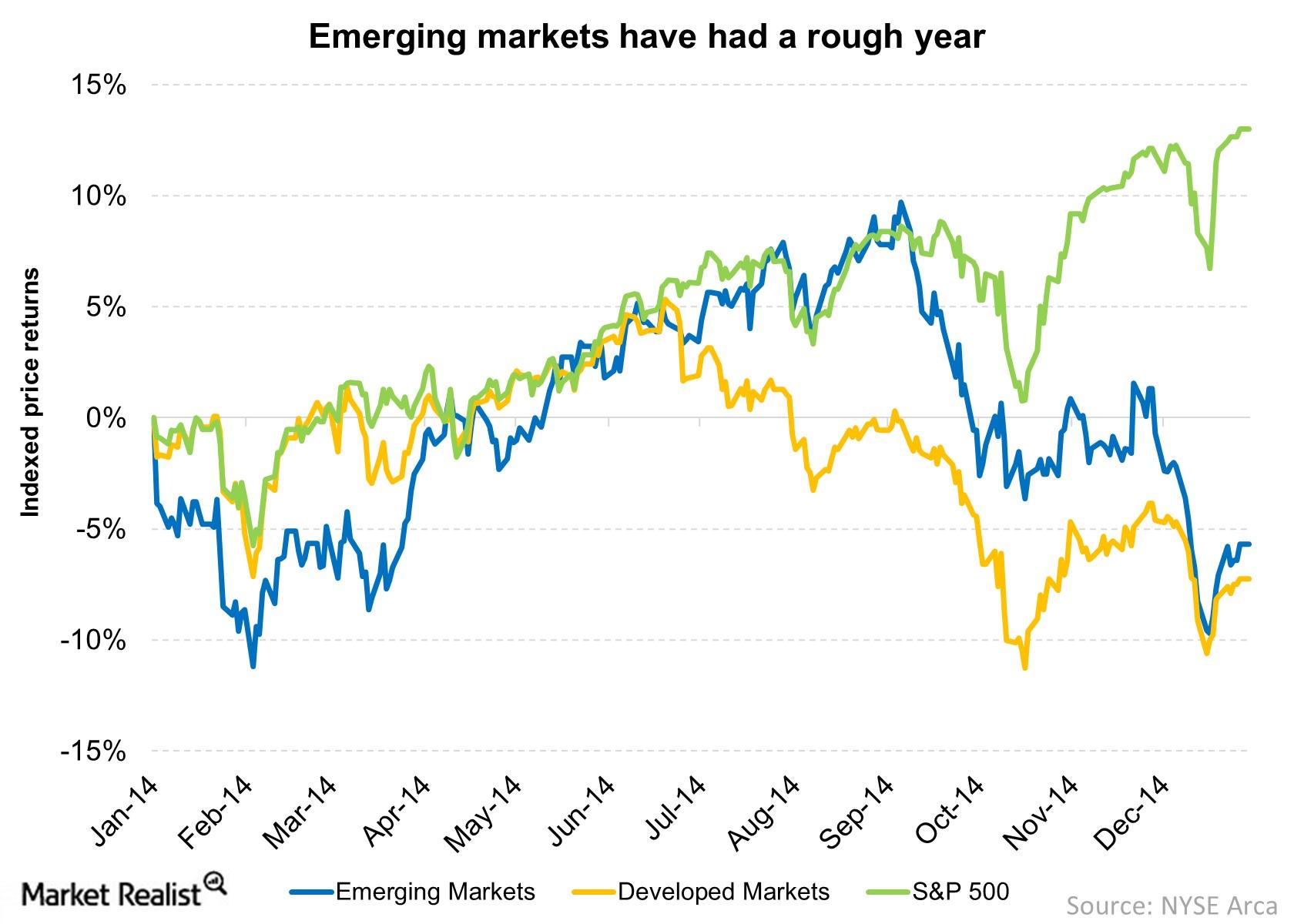 Article continues below advertisement
Market Realist – Emerging markets underperfomed most global indexes in 2014
2014 has been a bittersweet year for global equities (QWLD). While the S&P 500 (SPY) continued its fantastic rally, other developed markets, as well as most emerging markets, had a forgettable year. The graph above shows these trends. The S&P 500 rose 13.0% in 2014, preceded by a whopping 29.6% in 2013.
On the other hand, developed and emerging market funds alike have given negative returns in 2014. As the graph above shows, emerging markets, as tracked by the iShares MSCI Emerging Market ETF (EEM), have fallen 5.7%. However, the fund was up ~10.0% in September. Since September, it's down by 14.0%. Developed markets—the US and Canada aside—as tracked by the iShares MSCI EAFE ETF (EFA), have eroded investor wealth by 7.2%.
The sudden decline in emerging markets is due to a number of factors. Japan (EWJ) recently slumped into recession, whereas Europe (EZU) barely dodged the bullet. Recent economic data coming from China (FXI) indicates that the second-biggest economy is slowing down as well. These are some of the biggest export partners of most emerging markets. Exports usually make up around 20% to 30% of an economy's GDP (gross domestic product). This has affected emerging market funds adversely.
The next part of this series will show you why emerging markets are attractively valued.