Emerging markets to lead long-term growth in air travel
By Teresa Cederholm

Dec. 4 2014, Updated 4:01 p.m. ET
Future prospects of emerging economies
Airline passenger growth has been strong in some of the fast-growing markets. The Middle East recorded the highest airline passenger growth rate of 15.8%, which was higher than the industry average of 7.2% in September. According to the International Air Transport Association (or IATA), Brazil is expected to be the fifth fastest increasing market in terms of additional passengers per year. Eight of the ten fastest growing markets are expected to be in Africa.
Article continues below advertisement
The International Monetary Fund (or IMF) notes that the emerging markets of Asia-Pacific, Middle East, Latin America, and Africa are growing at a faster rate than mature markets. Although advanced economies are projected to grow at 1.8% in 2014 and 2.3% in 2015, growth in emerging economies are projected at an average of 4.4% in 2014 and 5% in 2015.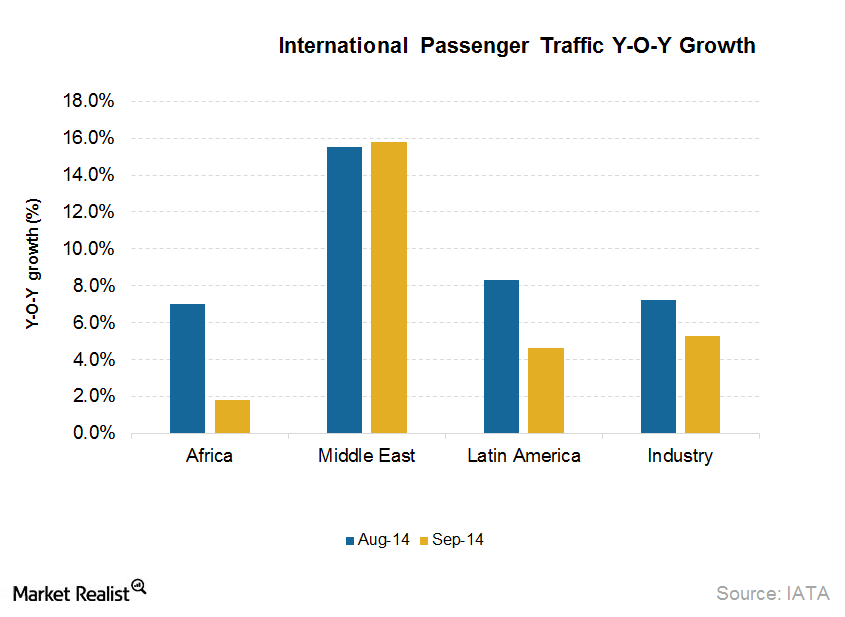 Emerging market highlights
Middle East: Even in September, the Middle East region recorded the largest year-over-year (or Y-O-Y) growth in international traffic of 15.8%, higher than 15.5% recorded in August. This was supported by strong regional economies, improving business confidence, and expanding exports.
Africa: The growth in African international traffic has been volatile. In September, growth in international traffic was only 1.8% compared to 7% in August. There was weakness in international air travel due to slowdowns in key economies, including South Africa, apart from low demand due to the Ebola outbreak. However, Ebola-affected areas such as Guinea, Liberia, and Sierra Leone comprise a small portion of the African market.
Latin America: International traffic in Latin America increased by 4.6%, lower than 8.2% recorded in August. Economic growth in Colombia, Peru, and Chile have supported positive growth. However, weakness in Brazil's economy has slowed travel growth. Economic growth in Brazil remained weak due to challenges related to currency volatility, high inflation, and weakening consumer confidence. Despite this, domestic air traffic rose by 4%.
Gol, Brazil's second largest airline, has been showing considerable improvement over the years despite macro economic challenges. It is held by ETFs such as the Brazil Consumer ETF (BRAQ) and the Guggenheim BRIC ETF (EEB). LATAM (LFL) is the largest airline in Brazil. However, airlines in Brazil are at a competitive disadvantage to major US airlines, including Southwest (LUV), JetBlue (JBLU), America (AAL), United (UAL), and Delta (DAL).