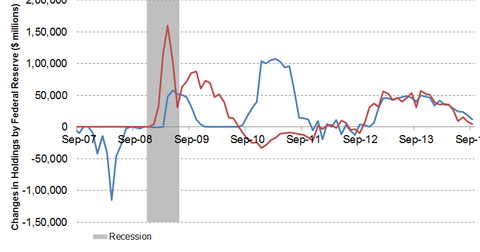 US markets react to the September 2014 FOMC policy statement
By Rick Rieder

Updated
More importantly than whether the Fed's recent policy statement was "dovish" or "hawkish," the statement provided five signs that a Fed rate hike is likely to come earlier than many expect, writes Rick Rieder.
Market observers are parsing every comment from the Federal Reserve (or Fed)'s most recent statement and Fed Chair Janet Yellen's accompanying press conference, trying to determine where the Fed's words fall on the "dovish" to "hawkish" spectrum.
Article continues below advertisement
Market Realist – Many market observers are considering the Fed's policy to be "dovish." The Federal Open Market Committee intends to keep rates low for a "considerable time." The Fed has signaled a probable end to the quantitative easing program, involving the purchase of ten-year U.S. Treasuries (IEF), in October.
The Fed introduced the quantitative easing program as financial stimulus to the U.S. economy in order to combat the recession caused by the 2008 U.S. financial (XLF) crisis. The tapering program, reducing the rate of these asset purchases, began in January, as you can see in the graph above.
The September meeting of the Federal Open Market Committee or FOMC increased the taper by $10 billion.
Market Realist – The above graph shows the Treasury yield curves as of September 17, 2014, and a week earlier. The rates, particularly for long-term Treasuries (TLT), went up. This reflected a decline in prices. The bond market was weighed down by the FOMC policy statement, inferring the statement release as an indicator of "hawkishness."
The dollar and gold (GLD) markets saw a similar sentiment. The dollar rose while gold fell on September 17, 2014.
There was a stark split in stock market sentiment. The U.S. stock markets reacted positively to the FOMC meeting, indicating that the markets were considering the Fed's stance "dovish." The Dow Jones Industrial Average (DIA) increased by 0.2% to end at a record high of 17,157 in response to the statement. The S&P 500 (SPY)(IVV) increased by 0.1% to 2,002 while the NASDAQ (QQQ) rose by 0.2% to 4,562 on September 17, 2014.
Read our series Financial markets react ahead of the FOMC and Scottish referendum to understand market action in detail.
Read on to the next part of this series to learn why the FOMC policy statement looks more hawkish than dovish.