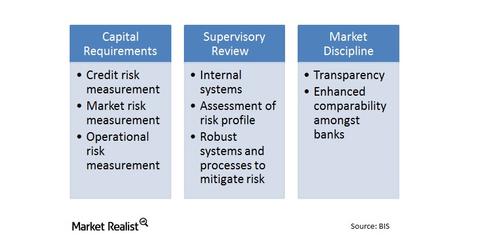 Why Basel II was the most radical approach to banking regulations
By Saul Perez

Updated
New regulations
The Basel Committee on Banking Supervision received feedback from central banks across the world and other stakeholders. Since Basel I's implementation in 1992, the banking landscape had changed a lot. So there was a need to come up with a new set of regulations.
After a lot of consultation, the Basel Committee on Banking Supervision came out with its second set of accords, popularly known as Basel II,  in 2004.
Basel II's objectives
Basel II had three stated objectives:
To increase the international banking system's quality and stability
To create and maintain a level playing field for internationally active banks
To promote the adoption of more stringent practices in the risk management field
Article continues below advertisement
The first two goals were part of Basel I. But the last goal was new and by far the most important. Even the committee itself said that last goal was the most important. This was a sign of a shift from ratio-based regulation towards a regulation that would rely more and more on internal data, practices, and models.
All types of banks like JPMorgan (JPM), Wells Fargo (WFC), Morgan Stanley (MS), Goldman Sachs (GS), and other banks in an ETF like the Financial Select Sector SPDR Fund (XLF) were expected to implement these norms.
The Basel II Accord is structured in three main pillars—pillar one, two, and three. The three pillars can be thought of as three complementary axes designed to support the global objectives of financial stability and better risk management practices.
We'll look at these three pillars individually in the next three parts of the series. This will help you fully grasp what the committee was trying to do. The next few articles will also help you understand the banking business better and make you a better investor.