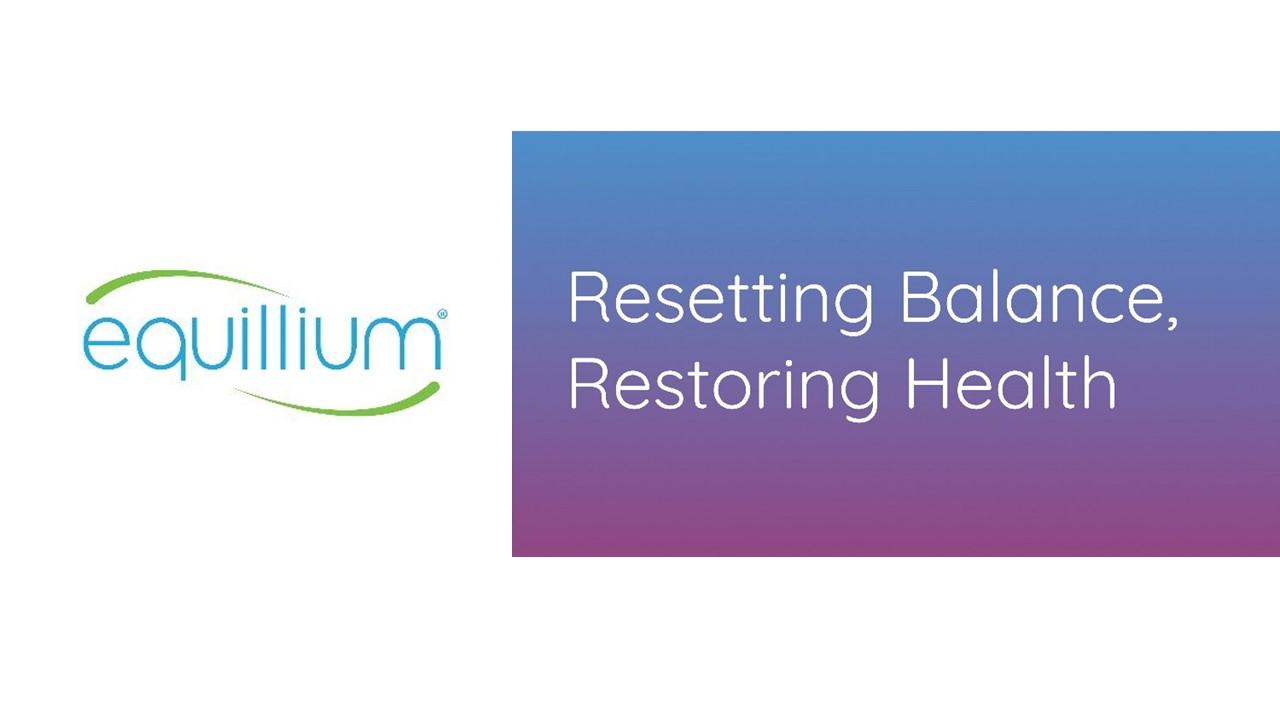 Equillium Stock Shows Promise, Good Value for Bargain Hunters
By Ruchi Gupta

Apr. 16 2021, Published 11:53 a.m. ET
Equillium (EQ) stock fell 1.93 percent on April 15 and closed at $6.59. The stock has dropped about 7 percent in the past week and has retreated sharply from its recent high. Although down, Equillium stock remains above the penny stock zone. Will EQ stock recover and is it a good buy now?
Article continues below advertisement
Started in 2017, Equillium is a biotechnology company that's based in San Diego. It has focused on developing treatments for immuno-inflammation disorders with high unmet medical need. The company's lead product candidate is itolizumab, which it believes has broad therapeutic potential. At some point, the candidate was thought to be a potential COVID-19 treatment. However, Equillium decided not to pursue that path.
Why Equillium stock has dropped
Equillium stock has fallen 15 percent in the past month and has pulled back 76 percent from its recent peak. Nothing particularly disturbing about Equillium's business model or clinical program has come out that might explain the stock's decline. Pfizer (PFE) and Moderna (MRNA) stocks have also dropped well below their latest peaks. 
Article continues below advertisement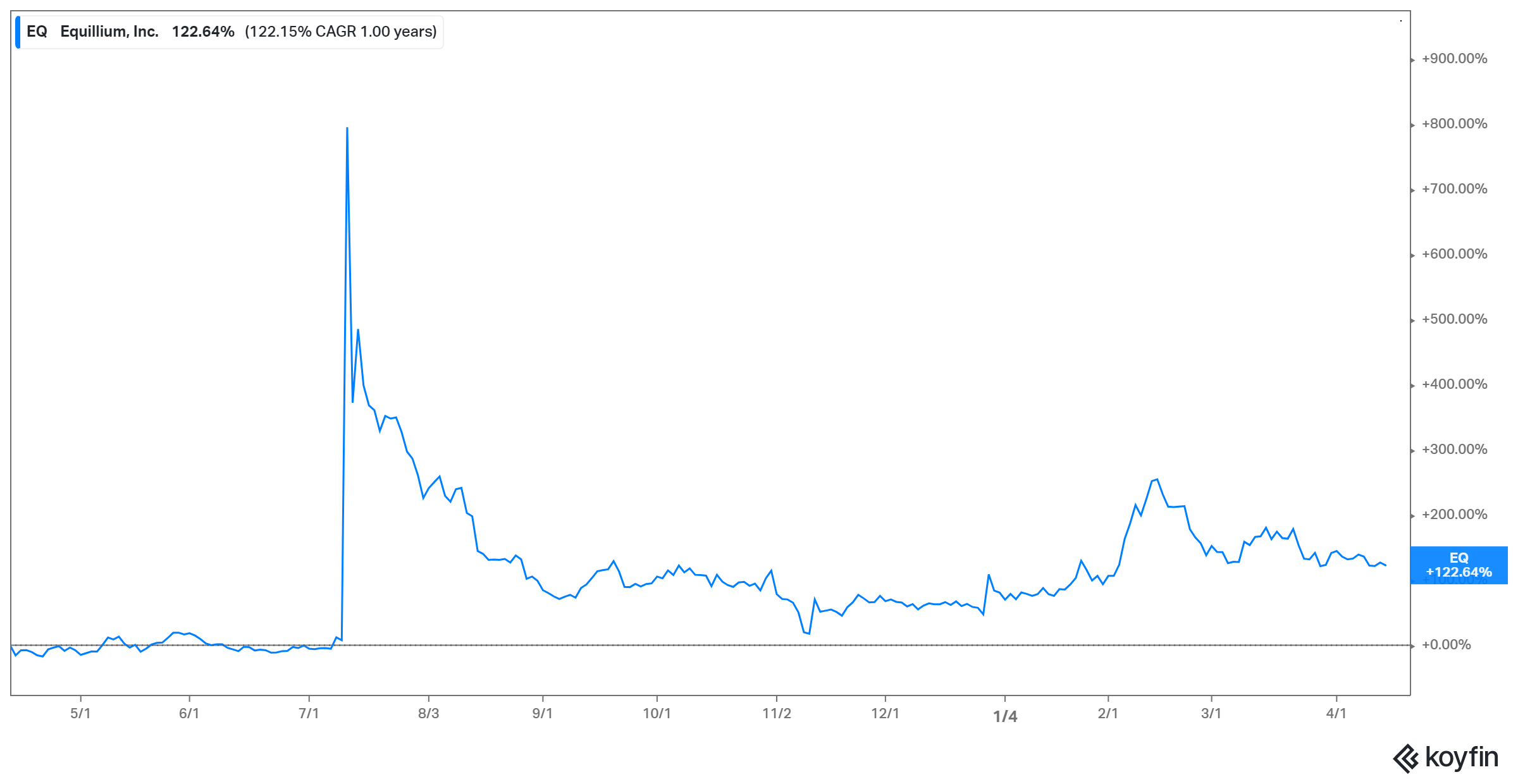 Therefore, the pullback in Equillium stock might be a case of investors rotating out of certain sectors or assets into others mostly in pursuit of short-term gains. For example, there has been a rush into semiconductor stocks amid the global chip shortage. Also, the hot Coinbase IPO and bitcoin price rebound have driven some investor attention into crypto assets.
Article continues below advertisement
More specific to Equillium, the stock shot up on COVID-19 treatment speculations. When it turned out that the company wasn't pursuing that path for itolizumab, some investors weren't interested in the stock anymore and started exiting. That contributed to EQ stock falling off its peak. However, there's more to Equillium and its product candidate itolizumab than COVID-19 treatment speculations. 
Equillium stock should recover.
The development and testing of Equillium's lead product candidate itolizumab is progressing well. The candidate was found to be safe and well tolerated in a Phase 1b EQUALISE study. 
Article continues below advertisement
For clinical-stage companies like Equillium, what investors look at more is whether the product candidate stands a chance of making it to the market. Regulatory feedback also matters. There are a number of study results as well as FDA feedback on itolizumab coming down the road. If positive, EQ stock should rise.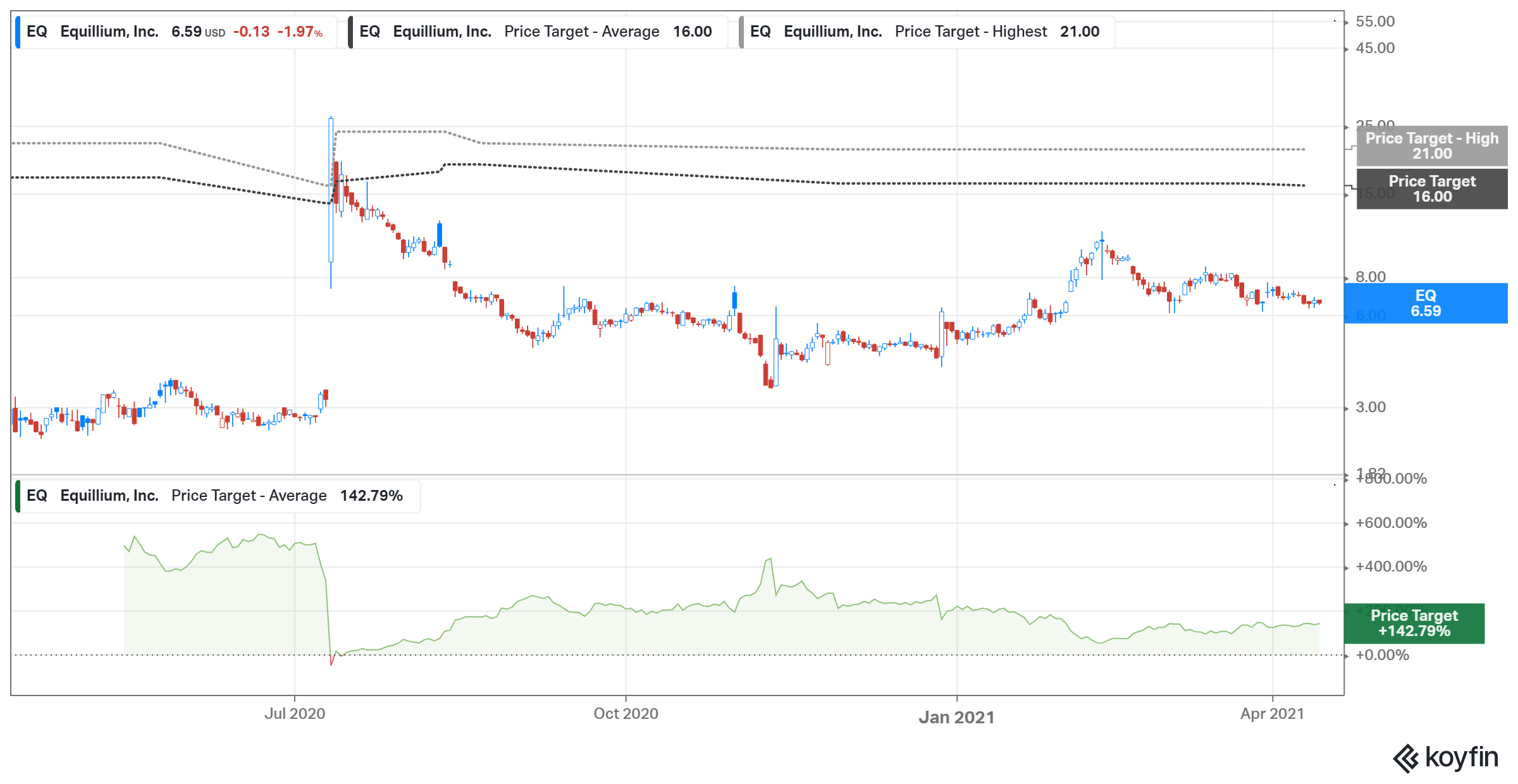 Article continues below advertisement
Equillium (EQ) stock forecast
The sharp drop from the peak is driving investors' curiosity about Equillium's stock forecast. The stock's outlook leans bullish. The consensus target price of $16 implies a 143 percent upside potential from the current level. The high target of $21 implies a nearly 220 percent upside.
There aren't many investors betting against Equillium and the stock remains popular with big investors. EQ stock has a short interest of 10.53 percent. More than 31 percent of Equillium shares are in the hands of institutional investors, including BlackRock and Squarepoint.
Article continues below advertisement
EQ stock looks attractive.
You might find EQ stock attractive now for several reasons. First, the company has enough cash to meet its expenses until the second half of 2023. Management can focus its attention on developing itolizumab into a commercial product instead of worrying about financing.
Also EQ stock has come down more than 70 percent from its recent high, which might have opened a window for bargain investors to get it at a discount considering the stock's rosy forecast.