AMC Stock Forecast 2025: Not a Good Long-Term Investment
AMC Entertainment (AMC) stock has been very volatile this year. While the stock is up almost six-fold YTD, it's down over 38 percent from its 52-week highs of $20.36, which it hit in January amid the pumping by WallStreetBets. However, it's back to fundamentals for AMC stock now. What's the company's 2025 forecast and is it a good long-term investment?
Article continues below advertisement
Overall, 2020 was a turbulent year for AMC Entertainment. With its cinemas either closed or operating at reduced capacity, the company was burning millions of dollars every month. In its earnings call for the fourth quarter of 2020, the company said that its monthly cash burn was $124 million.
AMC's cash burn
Now, there are three main ways for a company to bridge the cash burn. The first is to raise debt, the second is to issue equity, and the third is to sell some assets to raise cash. AMC used the first two ways generously. The company has raised almost $2 billion in a mix of debt and equity since the beginning of 2020.
Article continues below advertisement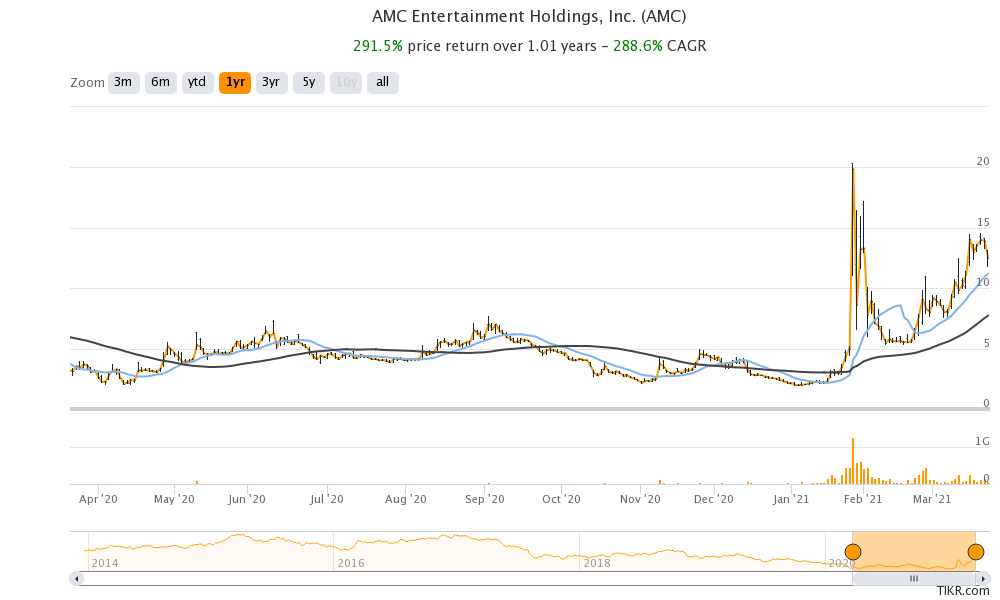 Currently, AMC expects its cash burn in the first half of 2021 to be similar to what it saw in January and February. It expects the cash burn to fall to around $50 million per month in the third quarter and expects to become cash flow breakeven to slightly positive by the fourth quarter. The company has enough cash to cover the cash burn for 2021.
Article continues below advertisement
AMC's short interest
WallStreetBets pumped AMC stock and was instrumental in triggering a short squeeze. Since then, the stock's short interest has fallen and only about 12.5 percent of its shares are sold short according to the most recent filing. Short squeezes can be a short-term driver for stocks. However, in the medium to long term, it's the fundamentals that matter more.
AMC's stock forecast in 2025
Let's take a long-term view of AMC Entertainment stock. First, the company will exit the COVID-19 pandemic with a bloated balance sheet. A high debt burden would lead to higher interest expenses, while the expended share count after the stock issuance would lead to dilution.
Article continues below advertisement
From a business and operations standpoint, cinema chains like AMC face a long-term headwind from streaming. As movie production houses like Disney and HBO prioritize streaming, it could mean a loss of business for cinema chains.
Article continues below advertisement
While streaming can't replace moviegoing for a lot of people, it will likely be a tough competitor for cinemas. For some people, the comfort of watching a new movie on a streaming platform might be too tempting. Also, watching the movie on a streaming platform would be efficient in terms of time and money.
Cinema chains are discovering that they have little to no leverage over movie production houses that might continue to release new titles on their streaming platform even after the COVID-19 pandemic. It won't be surprising if the total amount spent on moviegoing in 2025 is lower than 2019 in inflation-adjusted terms at least in developed markets.
Article continues below advertisement
AMC stock's valuation
It isn't prudent to value AMC stock based on the NTM numbers. Let's look at an alternative instead. AMC Entertainment posted an average EBITDA of $782 million between 2016 and 2019. Let's assume that the company reaches this level of EBITDA profitability by 2023 and then the EBITDA rises 10 percent every year in 2024 and 2025.
Article continues below advertisement
This would mean a 2025 EBITDA of $946 million. These are generous estimates and don't assume much harm from streaming. Now, at the end of 2020, AMC had a total debt burden of $5.7 billion and $5.5 billion of discounted rental payments as part of the operating lease. Its current enterprise value is around $16.6 billion.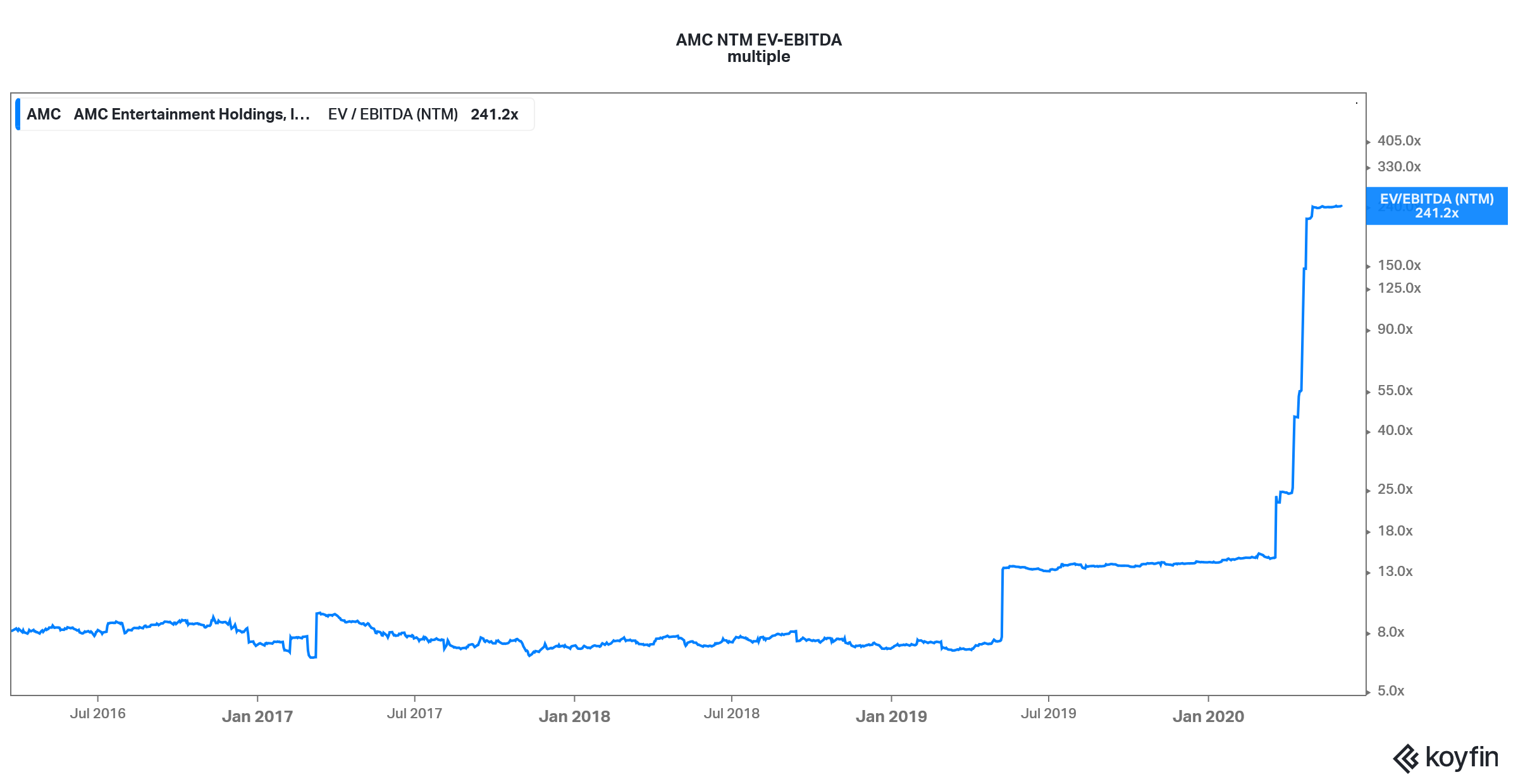 Article continues below advertisement
AMC Entertainment isn't a good long-term investment.
This would mean a 2025 EV-to-EBITDA of 17.5x, which looks like an elevated multiple for a cinema chain company. To put that in perspective, before the COVID-19 pandemic, AMC mainly traded in single-digit NTM EV-to-EBITDA multiples.
Here we see it trading at double-digit EV-to-EBITDA multiple and that's on projected 2025 numbers! Overall, the valuations don't seem to match the fundamentals for AMC stock.
AMC Entertainment doesn't look like a good long-term investment at least at the current prices. The risk-return tradeoff doesn't look attractive at these prices.