NIO Stock Might See Another Blockbuster Year in 2021
Overall, 2020 was nothing short of a miraculous turnaround for NIO stock. In the first quarter, it appeared that the company was headed for an imminent bankruptcy. NIO flagged concerns about its ability to continue as a going concern. However, it gained over 1,100 percent in 2020. What's NIO's outlook for 2021? Can NIO stock continue to rise in 2021 or would investors be better off taking profits at these levels?
Article continues below advertisement
Last year was incredible for all of the companies in the EV ecosystem. Many new electric vehicle companies including XPeng Auto, Li Auto, Nikola, Fisker, Canoo, Arrival, and Lordstown Motors listed in 2020. The listed names — both Tesla and NIO — raised capital thrice by issuing shares.
Article continues below advertisement
Did analysts underestimate NIO in 2020
Before looking at the forecast for NIO stock in 2021, let's do a recap of how it proved critics wrong in 2020. First, the company managed to post positive gross margins in 2020 as it promised. Second, the company strengthened its balance sheet by multiple capital raises. The capital issuances have helped fend off the bankruptcy concerns. Finally, as Tesla stock rallied, markets rerated other electric vehicle companies as investors chased the "next Tesla."
Many analysts had a low single-digit target price on NIO at the beginning of 2020. However, as the tide started to turn, analysts started raising their target prices. Goldman Sachs made many flip flops and changed its ratings on NIO several times in 2020.
Article continues below advertisement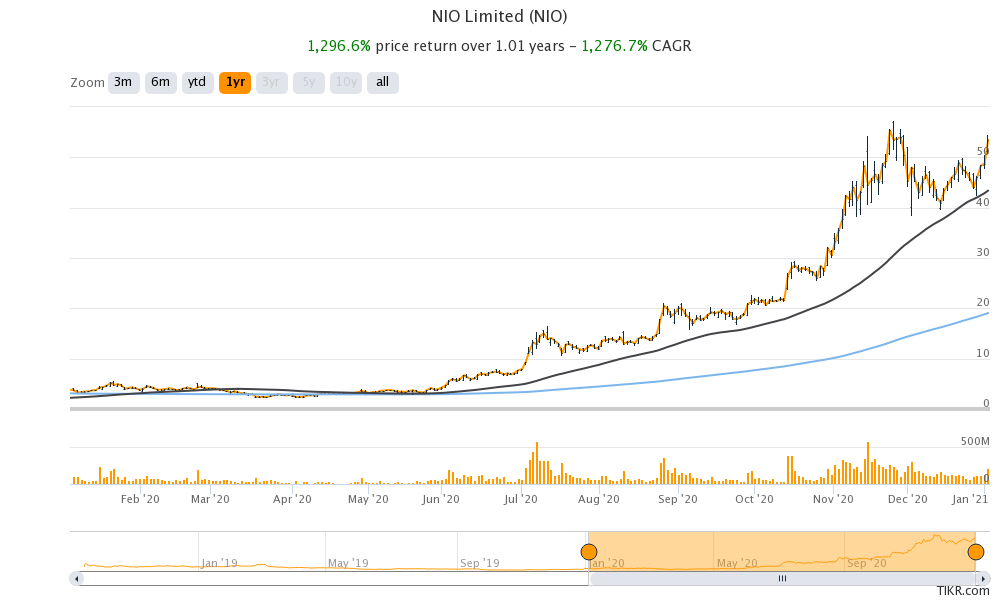 NIO's stock price history
Before rallying 1,100 percent in 2020, NIO stock fell to its all-time low in 2019 amid bankruptcy fears. The stock has a 52-week trading range of $2.11–$57.20. NIO started 2021 on a positive note due to better-than-expected deliveries and the announcement of a new sedan.
Article continues below advertisement
What analysts expect from NIO in 2021
Over the last few months, a lot of analysts have been turning bullish on NIO stock. However, as was the case throughout 2020, analysts' target price increases have come after the rally. NIO stock has an average target price of $50.20 at the beginning of 2021, which represents a downside of over 6 percent for the year. Analysts' target price has lagged the price action of NIO and other EV companies, like Tesla, for most of 2020.
Article continues below advertisement
NIO's plans in 2021
Several drivers could boost NIO stock in 2021. In January only, the company will hold its NIO Day. The company will provide more details about the new sedan, which could take on Tesla in the Chinese EV market.
Markets will watch the company's quarterly earnings for signs of continued improvement. From negative gross margins at the beginning of 2020, NIO managed to post double-digit positive gross margins in the year. While NIO isn't expected to turn positive on the net profit over the next two years, markets would like to see it expand its gross margins during the period.
Article continues below advertisement
How NIO could benefit in 2021
Markets will also be watching for NIO's 2021 vehicle production guidance. It would reassure markets that the massive valuation premium is justified. In 2020, Tesla missed its guidance of 500,000 deliveries. However, the deliveries were higher than what the markets expected.
Article continues below advertisement
NIO is also expected to launch its vehicles in international markets this year. After the capital raise in 2020, NIO is expected to scale up its R&D especially towards autonomous driving. Overall, the company's outlook looks positive in 2021. Will the positive outlook mean more gains for NIO stock in 2021?
NIO's stock forecast in 2021
While NIO is expected to continue to deliver strong growth in 2021, most of the positives are already baked in its stock after the massive rally in 2020. The company trades at an NTM EV-to-revenue multiple of 22.2x. After the rerating in 2020, all of the companies in the green energy ecosystem are trading at multiples associated with startup tech companies.
Article continues below advertisement
Is NIO stock a buy or a sell?
Investors are in love with the vehicle electrification story, which isn't unfounded. However, the next two years will be crucial for EV makers as many new all-electric models from legacy automakers hit the roads. Also, pure-play EV makers are ramping up capacity.
NIO stock probably won't repeat its 2020 performance 2021. The stock looks richly priced at these levels and looks ripe for a correction. However, any correction in NIO stock would be a buying opportunity for investors.