Airbnb (ABNB) Stock Looks Overvalued and Could Drop More
Short-term rental company Airbnb (ABNB) had a blockbuster IPO in 2020. Despite pricing the IPO above the expected range at $68, the stock more than doubled on listing. It continued to rise after the IPO and made a 52-week high of $219.94. Since then, the stock has fallen over 18 percent from the peaks. While many investors wonder whether buying the dip in ABNB stock might be a sound investment strategy, the stock looks overvalued and will likely drop more.
Article continues below advertisement
Airbnb and DoorDash went public around the same time in 2020 and delivered stellar listing gains despite the valuation looking stretched even at the IPO price.
Why Airbnb stock is dropping
The strong gains prompted at least two companies, Roblox and Affirm, to delay their IPOs to 2021 and rework their IPO pricing. Both of these companies went public in 2021 and spiked after listing.
Article continues below advertisement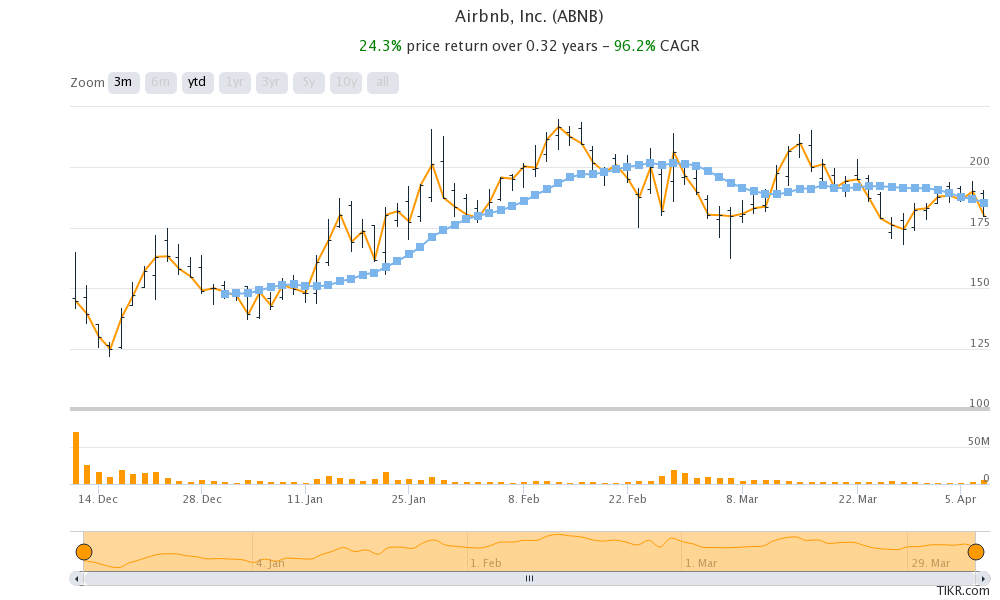 There has been a sell-off in growth stocks amid the surge in bond yields. Higher interest rates in the future would make future cash flows less attractive. Investors have been selling companies whose revenues and cash flows are skewed to the future.
Article continues below advertisement
Second, the rally in reopening stocks went a bit ahead of the fundamentals even though the COVID-19 pandemic continues to ravage global economic activity. There has been a spike in new COVID-19 cases globally over the last month and reopening stocks like ABNB have come under pressure.
Article continues below advertisement
ABNB stock is overvalued.
Meanwhile, the biggest reason ABNB stock has dropped is that investors are getting cognizant of its valuations, which look a bit too stretched. Airbnb stock trades at an NTM EV-to-EBITDA multiple of 21.8x. The multiple would seem high even for high-growth tech companies.
Airbnb has a market capitalization of above $100 billion. Bulls would try to justify the valuation by placing Airbnb alongside start-up tech companies. However, over the last few months, investors have been getting wary of the "new age tech stocks."
Article continues below advertisement
Electric vehicle stocks have tumbled in 2021 as investors weigh their outlook versus the tech-like valuations. There has been a sharp fall in fintech and health tech stocks. Interestingly, old economy stocks like banks and autos have risen even though their "tech cousins" have fallen.
Article continues below advertisement
Clearly, markets are now questioning the tech status of many companies and ABNB would form part of that category. Even after valuing ABNB as a growth company, it will face several headwinds.
Challenges Airbnb will likely face
There has been a backlash in several cities globally about residents renting out their premises on Airbnb. Some cities including New York have already put restrictions on Airbnb and many more might follow. The regulatory arbitrage between hotels and Airbnb properties might also narrow soon.
Article continues below advertisement
Overall, while there isn't any denying that short-term rental companies like Airbnb have revolutionized the hospitality industry, ABNB stock looks overvalued even after accounting for all of the positives.
Article continues below advertisement
ABNB stock might drop more.
According to the estimates compiled by CNN Business, ABNB stock has a median target price of $180, which is similar to its current stock price. The stock's lowest target price of $130 is 27.8 percent below the current price, while the highest target price of $245 is a premium of 36 percent over the next 12 months.
I would expect ABNB stock to drop more in 2021 looking at the elevated valuations and the various macro and company-specific challenges it's facing. Like many other overvalued companies, Airbnb also capitalized on the rise in its stock and raised $2 billion from convertible notes.