GameStop (GME) Stock Forecast 2025: Cohen Might Create Another Chewy
GameStop (GME) stock has been very volatile in 2021. It shed one-third of its value on March 24 after its earnings release but soared over 50 percent the next day. In the short term, volatility triggered by sentiments and the short squeeze can be stock price drivers. However, in the medium to long term, fundamentals matter more. What's the long-term forecast for GME stock and where could the stock be in 2025?
Article continues below advertisement
First, we should understand that GameStop is a turnaround stock. The company's sales have fallen YoY for the last three fiscal years. However, it has been focusing on a turnaround through cost cuts and pivoting towards online sales.
Ryan Cohen's stint with GameStop
Earlier this year, activist investor Ryan Cohen got three seats on GameStop's board. He has been playing an active role since then and is believed to be behind the exit of GameStop CFO Jim Bell. The company has also appointed a COO who has experience in Amazon and Alphabet. It's widely believed that the next CFO would also have a tech background.
Article continues below advertisement
GameStop has formed a committee led by Cohen that will "focus on identifying actions that can transform GameStop into a technology business and help create enduring value for stockholders."
Article continues below advertisement
Cohen cofounded Chewy and took on Amazon
Cohen created a success story with Chewy, which he co-founded and later sold to PetSmart for $3.5 billion in 2017. Now, Chewy is a listed company with a market capitalization of over $32 billion. Under Cohen, Chewy took on the mighty Amazon and become the "Amazon of pet foods."
Article continues below advertisement
Now, markets think that Cohen could repeat the Chewy success story with GameStop. There are also rumors that he might play an even more active role and head GME's e-commerce operations. The company's online sales have been soaring and accounted for over one-third of its sales in the fiscal fourth quarter of 2020.
GameStop is looking at transformation.
With Cohen at the helm, GME is looking at a transformation. It wants to grow its target market five-fold to reduce its reliance on the cyclical gaming console market. GameStop is a legit turnaround candidate due to its focus on more profitable online sales. It's transforming into a tech and consumer-focused company and it's expanding the target market.
Article continues below advertisement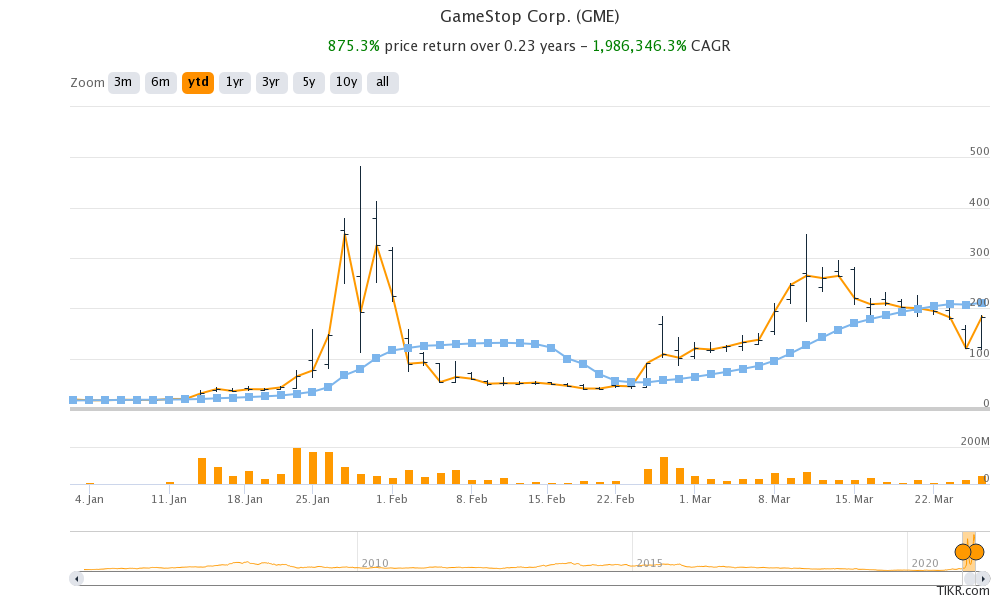 WallStreetBets and GME stock
GME stock is the most popular meme stock. Retail investors led by the Reddit group WallStreetBets triggered an epic short squeeze that cost short-sellers billions of dollars in losses.
Article continues below advertisement
Usually, short squeezes fade within days. However, what WallStreetBets has done with GME stock could have a long-term impact. Even though many hedge funds might think that GME stock is overvalued and a good candidate for a short sell, they will be wary of doing so considering what happened to Melvin Capital.
Tesla could be a perfect example here. Many prominent short-sellers, including Jim Chanos, have lowered their bearish bets on the stock after its massive rally. Again, like GME stock, Tesla's rally is also driven by retail investors who trust in the company's story and Elon Musk's capabilities.
Article continues below advertisement
In the medium to long term, such short squeezes can help GME lower its cost of capital. It plans to raise more capital by selling shares. The share sale would happen at a higher price amid the retail investor-led rally in GME stock.
Article continues below advertisement
GME's stock forecast 2025
While GME's revenues have fallen YoY over the last three fiscal years, things could change now. The console market is strong, which should support the company's near-term revenues. Also, in the fiscal fourth quarter of 2020, it reported higher comp sales as rising online sales offset the impact from store closures.
Article continues below advertisement
Over the medium to long term, GME's focus on expanding its target market could be a key driver. Retail investors seem to have full faith in Cohen. They think that he can turnaround the company.
From a valuation perspective, it might be difficult to build a case for GME at these prices. However, looking at Tesla's example, retail investors can prove even the best of analysts and hedge funds wrong. Can GME do the same in the long term? Quite likely.