Alibaba Stock Is in a Free Fall, Could Recover Soon
Alibaba stock has been in freefall in the fourth quarter after making its all-time high in October. A flurry of negative news has hit the company. Now, Alibaba is up less than 5 percent for the year even though other e-commerce companies like Amazon, Shopify, and Etsy have surged in 2020. Why is Alibaba stock falling and can it recover from the recent slump?
Article continues below advertisement
Alibaba was the biggest IPO ever when it listed on the U.S. markets in 2014. Alibaba-backed fintech company Ant Financial looked set to become the biggest IPO before China stopped its listing — the beginning of Alibaba's troubles in 2020.
Article continues below advertisement
Will Alibaba stock recover?
Before determining whether Alibaba can recover, it's important to look at the troubles that the company is facing, including:
The Ant Financial IPO got blocked.
Chinese regulators opened an antitrust probe against Alibaba.
Jack Ma has faced troubles with Chinese regulators.
There's a general global mood to regulate and possibly break up big tech companies.
The first two challenges might have a negative impact on Alibaba's business. Chinese regulators have asked Ant Financial to redraft its business. If the IPO went through, Ant Financial's market capitalization would have been higher than JPMorgan Chase — the biggest U.S. bank. It would also have boosted Alibaba's valuation. The company owns a 33 percent stake in Ant Financial.
Article continues below advertisement
Alibaba faces an antitrust investigation
China's probe into Alibaba's alleged antitrust business practices could also hit its business. The company has exclusive partnerships with some sellers. Also, China's actions against Alibaba increase its risk profile. The investigation will be negative for Alibaba's valuation multiples even after the current issues are sorted.
Article continues below advertisement
Alibaba's class action suits
Several law firms including the Portnoy Law Firm, Jakubowitz Law, and The Law Offices of Vincent Wong have initiated class-action suits against Alibaba for making misleading statements. Portnoy Law Firm has filed the class-action suit alleging that Alibaba made false and misleading statements about Ant Financial.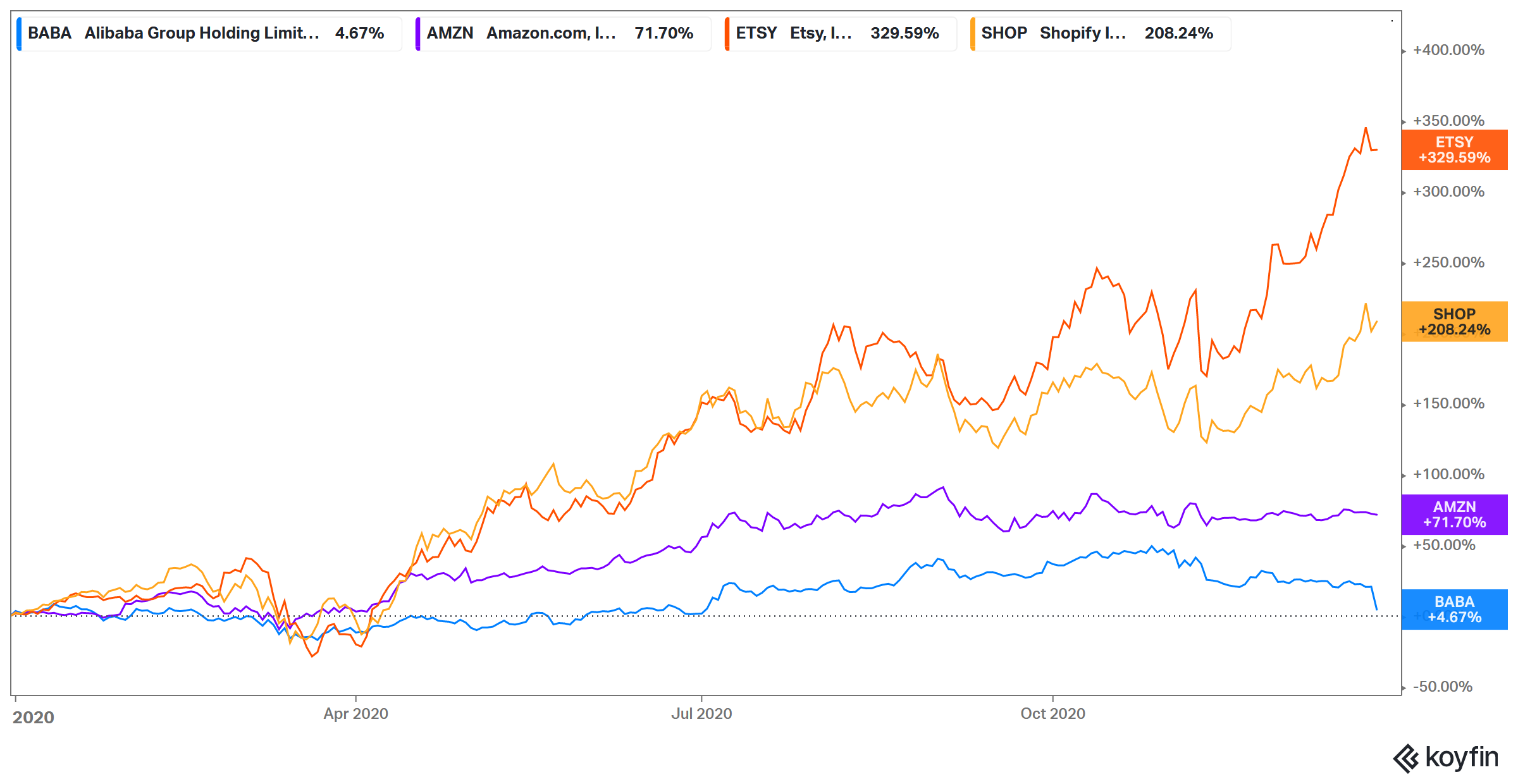 Article continues below advertisement
Alibaba's stock forecast
According to the data compiled by TipRanks, Alibaba's average target price is $338.47, which is a premium of more than 52 percent over its current stock price. Even the stock's lowest target price of $290 is a premium of more than 30 percent over current levels.
China might not go for strict measures against Alibaba. Small cosmetic changes in Alibaba's business model to accommodate the changes sought by regulators might not hit the company's earnings to a great extent. Alibaba's problems surfaced after Jack Ma made critical statements about Chinese regulators. The issue might be sorted after Ma and Chinese regulators reach reconciliation. Since Ma is a smart businessman, he might push for reconciliation soon, which could lead to a sharp recovery in Alibaba stock.
From a valuation perspective, Alibaba stock looks attractive. The company's NTM PE ratio is less than 20x, while its earnings are expected to grow more than 27 percent over the next year. Alibaba's NTM PEG (price-to-earnings-to-growth) multiple is less than 1x, which is a sign of undervaluation. Alibaba's valuation multiples are much lower than other e-commerce companies. Even after discounting for the current negative sentiments, Alibaba's risk-reward ratio looks reasonable at these price levels.