How Much Is CCIV SPAC Stock Worth Before the Lucid Merger?
Churchill Capital IV (CCIV) SPAC stock has been on a freefall since it announced the merger with Lucid Motors. Many investors wonder how much CCIV stock is worth before its merger with Lucid Motors.
Article continues below advertisement
First, we should understand the difference between price and value. So, the price would be the current stock price of CCIV stock, while the value would be what CCIV is worth. Since SPACs don't have any real value of their own apart from the funds garnered through the IPO, CCIV's worth would be the fundamental value of Lucid Motors.
Lucid Motors' current valuation
The merger between Lucid Motors and CCIV valued the combined entity at $24 billion. The value was based on the PIPE (private investment in public equity) of $15 per share. While the PIPE was at a fraction of CCIV's then price, it was at a 50 percent premium to the IPO price.
Article continues below advertisement
Based on CCIV's current stock price, Lucid Motors would have a pro forma market capitalization of $36.5 billion. To put that in perspective, Tesla has a market capitalization of $644 billion, while NIO's market cap is around $59 billion. XPeng and Li Auto have a market capitalization of $27 billion and $20 billion, respectively.
Article continues below advertisement
Why CCIV stock is dropping
CCIV stock is dropping due to valuation concerns and a broader sell-off in the EV (electric vehicle) space. All EV stocks including Tesla and NIO have tumbled from their 52-week highs. The fact that the CCIV and Lucid merger came up with a big dilution for CCIV investors didn't help matters.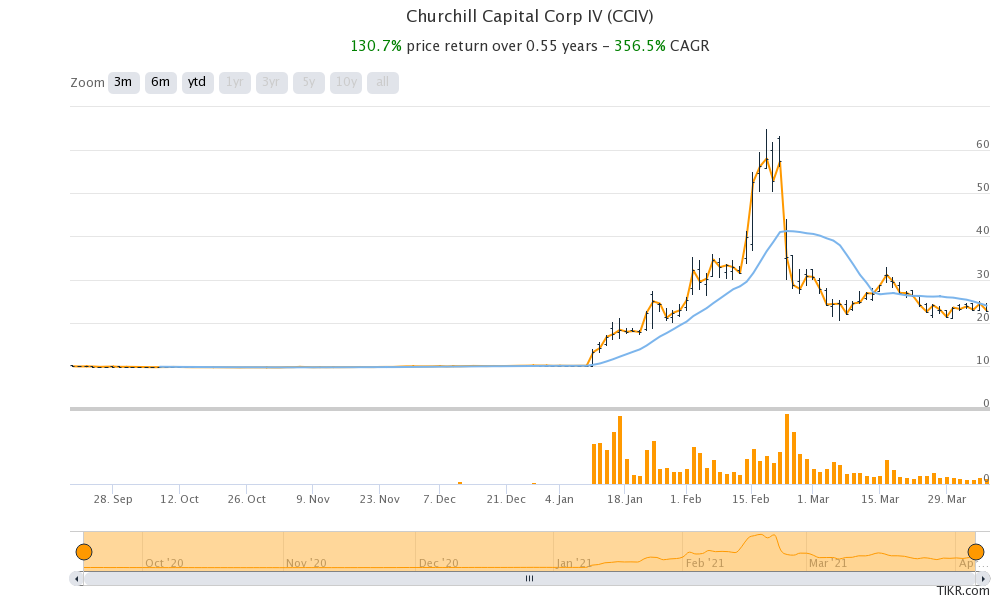 Article continues below advertisement
How much CCIV stock is worth
Now, let's get to the real question. How much is CCIV stock worth? While markets are valuing Lucid Motors at a pro forma market capitalization of $36.5 billion, is CCIV worth it? My answer would be no.
CCIV isn't making any revenues and will only start delivering cars by the end of this year. Thanks to the lax regulations governing SPAC reverse mergers, Lucid Motors provided us with a lot of forecasts about its future earnings.
Article continues below advertisement
The company expects to post revenues of $2.2 billion in 2022. NIO, which is also a luxury EV maker, posted revenues of around $2.5 billion in 2020. So, Lucid Motors doesn't look that overvalued. Lucid Motors' pro forma market capitalization is around 62 percent of NIO's market capitalization, while it's about two years behind on the top line.
Article continues below advertisement
Why Lucid Motors stock looks overvalued.
However, there are a few fallacies in the argument that we need to consider. First, NIO, or for that matter most EV stocks, look overvalued currently. There has been a sell-off in EV stocks and they might continue to remain under pressure. Simply put, a comparison with another overvalued stock doesn't make Lucid stock attractive.
Second, NIO at least has functional models, while Tesla has gone through the manufacturing learning curve and battled several headwinds over the last five years. Markets are ignoring the execution risk for Lucid Motors. Even Tesla had to go through what Elon Musk described as a "manufacturing hell."
Article continues below advertisement
Finally, don't count out legacy automakers. Over the next two years, we'll have a flurry of new EV models from multiple companies. Volkswagen has already announced aggressive plans to dominate the EV industry.
Article continues below advertisement
CCIV stock will likely drop more.
Currently, CCIV stock is trading in the low $20s. Over the last month, the stock has bounced back from these levels. The stock was trading higher in pre markets on April 8 amid the rise in tech names. However, I expect selling pressure soon for CCIV.
EVs will more or less become a mainstream and largely commoditized product by the middle of this decade. While Lucid Motors is pitching itself as ultra-luxury and "beyond luxury" in its investor presentation, the valuations are way more premium than its cars would be. I wouldn't buy the stock even at the current prices. I expect that the stock will drop more.
If history is any indication, EV stocks, especially the stocks that went public through SPAC reverse mergers, haven't fared well. The listing with Nikola being the prime example. While Lucid Motors might not go the Nikola way, don't expect a jolly ride even after the merger is completed.