Don't Rush to Buy NIO Stock, EV Stocks Are Under Pressure
Overall, 2020 was a pivotal year for EV (electric vehicle) stocks. NIO rose over 1,100 percent in 2020. Its market capitalization reached near $100 billion despite it being a loss-making company. However, the EV story has been under pressure in 2021. NIO stock fell over 10 percent on March 24 and is now down 24 percent YTD. Many investors wonder if they should buy NIO stock now.
Article continues below advertisement
To be sure, NIO isn't the only EV stock that's crumbling. Tesla, XPeng Motors, and Li Auto are also down 6 percent, 28 percent, and 21 percent, respectively, in 2021. The sell-off has been across the green energy spectrum. Fuel cell companies, charging infrastructure companies, and solar companies are also having a hard time in 2021.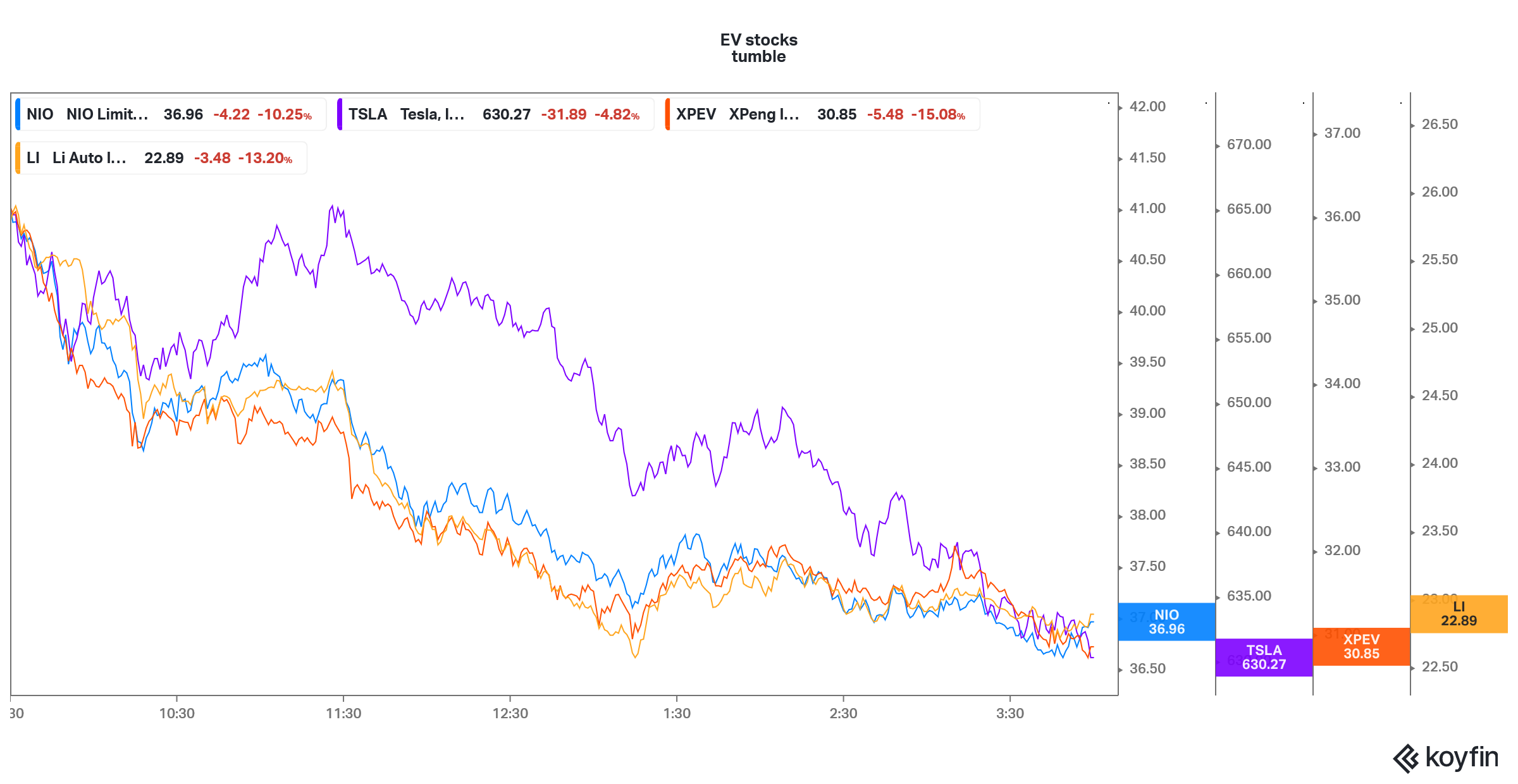 Article continues below advertisement
Why NIO stock is dropping.
There are multiple reasons why EV stocks like NIO are dropping. First, there has been a sell-off in tech and growth stocks. While EV stocks like NIO benefited from tech-like valuations during the boom time, they are falling amid the sell-off in tech stocks.
Second, the EV sector looked like it was in a bubble after the sharp rise in 2020. It wasn't possible to justify NIO commanding a market capitalization of $100 billion or Tesla's market capitalization exceeding the combined market capitalization of leading global automakers.
Article continues below advertisement
Third, there's a realization in the market that legacy automakers aren't going extinct without giving EV companies a tough fight. All legacy automakers including Ford and General Motors are ramping up their EV plans and investing billions of dollars towards these efforts.
Volkswagen was the "elephant in the room."
The last nail in the coffin for pure-play EV companies was Volkswagen's grand announcement where it wants to become the leader in the EV industry by 2025. The company is already the market leader in Europe. It has a strong global brand and distribution network. If Volkswagen comes up with electric cars that can excite the market, it could be the biggest threat for pure-play EV companies.
Article continues below advertisement
Will NIO stock recover?
NIO was trading lower in pre-market trading on March 24. It might recover somewhat from the crash but the medium-term outlook for the stock looks very bearish. One aspect that markets ignored over the last year was growing competition in the EV industry.
Article continues below advertisement
There's already a price war among EV companies in China. The trend would soon be visible in the U.S. markets as we get a flurry of new models. A price war invariably leads to lower margins. EV companies aren't making much money anyway and even Tesla, which turned "sustainably profitable," has been making a net profit margin in the vicinity of 1 percent.
Article continues below advertisement
EV industry bubble has burst.
Remove the carbon credits and Tesla becomes a loss-making company on a GAAP basis. It's worth noting that there were multiple signs of a bubble in the EV industry. To me, Tesla and NIO raising capital three times over the last year was a clear sign that even the companies think that their stock price is high. Newly listed XPeng and Li Auto followed suit and sold shares again within months of their IPO.
At least in Tesla's case, there wasn't any need for a capital raise. Tesla CEO Elon Musk denied the need for a capital raise in the earnings call for the fourth quarter of 2019. Meanwhile, Tesla ended up investing $1.5 billion in bitcoins since it visibly lacks other means to invest its cash pile.
Article continues below advertisement
NIO stock isn't a buy right now.
NIO stock is now down almost 45 percent from its peaks. Many investors look at buying stocks that trade at a significant discount to their 52-week highs. However, it could be a fallacy at least in NIO's case and I don't see the stock as a buy even now.
Article continues below advertisement
NIO still has a market capitalization of $58 billion and trades at an NTM price-to-sales multiple of 11.9x. To bulls, that would seem low. The multiple surged as high as 30x when NIO was at its peak.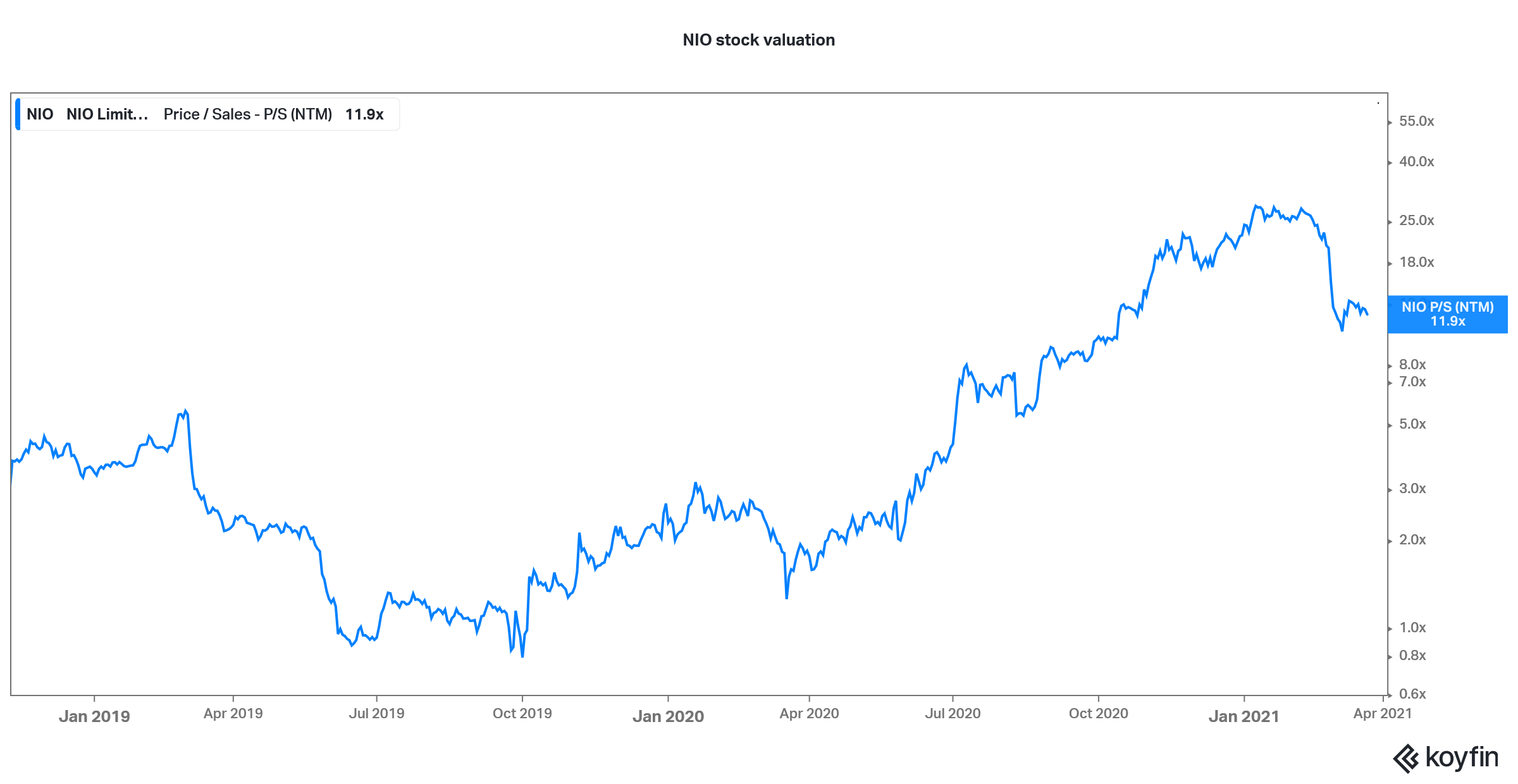 NIO stock looks overvalued.
The multiple was around 4x when NIO listed and fell below 1x in October 2019 when the company faced a survival crisis. While NIO survived bankruptcy and the sector got rerated last year, I would still be wary of buying the stock at double-digit NTM price-to-sales multiple.